Phillip Tutor: The Cult of Roy Moore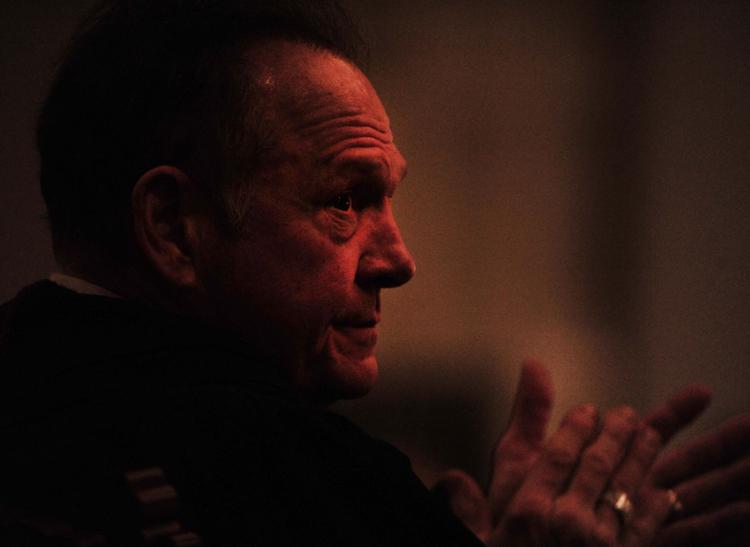 It's up to Alabamians, we're told.
It's our choice, Roy Moore or Doug Jones.
The credibly accused child molester or the attorney who found justice for the 16th Street Baptist Church bombing.
Most of Washington wants nothing to do with this. It's toxic. Deep down, no one wants the stain of Roy Moore's horse ride to the U.S. Senate on their hands.
Not the White House spokeswoman.
"Ultimately," Sarah Huckabee Sanders said, "it will come down to the people of Alabama to make that decision."
Not the Senate.
"I think we're going to let the people of Alabama decide … who they want to send to the Senate, and then we'll address the matter appropriately," Majority Leader Mitch McConnell said.
So it's up to us.
Are we willing to codify our home's growing reputation as a state so eat up with the extremes of Trumpian Republicanism and evangelical politics that we'll send someone credibly accused of sexual misconduct to Capitol Hill?
Are we willing to throw away one of our state's two Senate seats on a twice-defrocked judge with a track record of ignoring the law?
Are we willing to risk our ability to remain one of America's leading automakers because we side with a candidate who sees everything through a judgmental lens of anti-abortion, anti-gay rights, anti-transgender rights?
It's up to us.
It's our choice.
Granted, The Cult of Roy Moore is omnipotent. And entrenched. Outsiders don't get that, which is why the nation laughs at us, wondering if we're as dim-witted as we seem. Followers of The Cult of Roy Moore don't see him as a mere politician; to them, he's a righteous man who believes God's law supersedes U.S. law, who is beyond reproach and has suffered from decades of judicial persecution because of his faith. They refuse to burn Moore at the same stake as Alabama's sinning politicians, the Robert Bentleys and Mike Hubbards. Those men were corrupt; Moore and God's word are under siege.
The Cult of Roy Moore also draws from the fringes of America's far-right extremists.
There's fervent anti-abortion activist Janet Porter of Ohio, whose organization, Faith2Action, the Southern Poverty Law Center considers an active hate group that targets the LGBT community. This week, she insulted CNN anchor Poppy Harlow (who is pregnant with her second child) on national television: "That's the reason I came down as a volunteer to speak for Judge Roy Moore, because he stands for the rights of babies like yours in the womb, where his opponent will support killing them until the moment of birth."
Yet, she still speaks for Moore.
There's longtime Moore supporter Flip Benham, whose North Carolina-based Operation Save America plasters neighborhoods with "wanted posters" of doctors performing abortions at nearby clinics. In 2010, he was convicted in Charlotte of stalking abortion providers.
Yet, he still speaks for Roy Moore.
Moore and The Cult are trying to run from the credible accusations of sexual misconduct from multiple women, and they're failing. But there's nowhere to hide from the detritus lured in from the fringes of America's radical politics. It lathers Moore's campaign with slime and shame.
Alabama values, the stereotype goes, are braised in God, country, conservative politics and a hefty dose of disdain for outsiders who dare carpetbag in our matters. (Oh, the irony.) On Tuesday, Moore dared to go there on Twitter, writing, "I think they're afraid I'm going to take Alabama values to Washington and I can't wait."
But what are Alabama values? God and country and conservatism? Strong support of the military and veterans rights? Rock-solid adherence to the Second Amendment? A never-ending campaign to overturn Roe v. Wade? A blind-eye approach to elected officials who repeatedly refuse to follow the law? Steve Bannon-fueled hysteria about the Republican establishment? A culture in which women aren't to be believed?
Alabama values, like the damaged soul of a Republican Party whose only concern is Alabama's second Senate vote, are withering from Moore's virulent message.
Pull out pen and paper and jot down these names, the powerful men credibly accused this fall of sexual misconduct.
All are gone or suspended, or soon will be.
Sen. Al Franken, Democrat. Sen. John Conyers, Democrat. Hollywood mogul Harvey Weinstein. TV's Matt Lauer, Matt Halperin and Charlie Rose. The New York Times' Glenn Thrush. Comedian Louis C.K. Actors Andy Dick and Kevin Spacey. NPR's Michael Oreskes. And that's the short, though sordid, list. (Leaving off, for now, President Trump himself.)
Why are they different from Roy Moore?
Because they're not an Alabama Republican under the protection of Alabama voters and The Cult of Roy Moore. They're merely men credibly accused of touching, rubbing, exposing, or worse.
It's up to Alabamians, we're told.
It's our choice.
The wrong choice will haunt us, forever.