If you're a child from a poor family in Calhoun County, you're better off long-term being Hispanic rather than black.
Exceptions exist, of course. Education, incarceration rates, politics and family histories matter. But poor black kids who grow up in Calhoun County are expected to earn about $22,000 a year as adults. Poor Hispanic kids fare much better in adulthood, earning about $31,000 a year. That's nothing if not an empirical stompdown and a condemnation of Alabama's inability to weaken these life-altering disparities.
Those details come from data released this week from the U.S. Census Bureau and researchers at Harvard and Brown (a collaboration called "Opportunity Insights"), who've spent years plotting income, gender and race onto color-coded maps of every census tract in the United States. Each tract is searchable and broken down by race — white, black, Hispanic, Asian, American Indian and all.
The trove isn't confirmation of the obvious — that, on average, men earn more than women, whites earn more than most minorities, children of rich families earn more than children of poor families, regardless of race. Instead, it's in pinpointing tracts with widespread differences between whites and minorities who grow up in close proximity to each other, and tracts with no discernible differences. What it doesn't answer is a complex question: Why?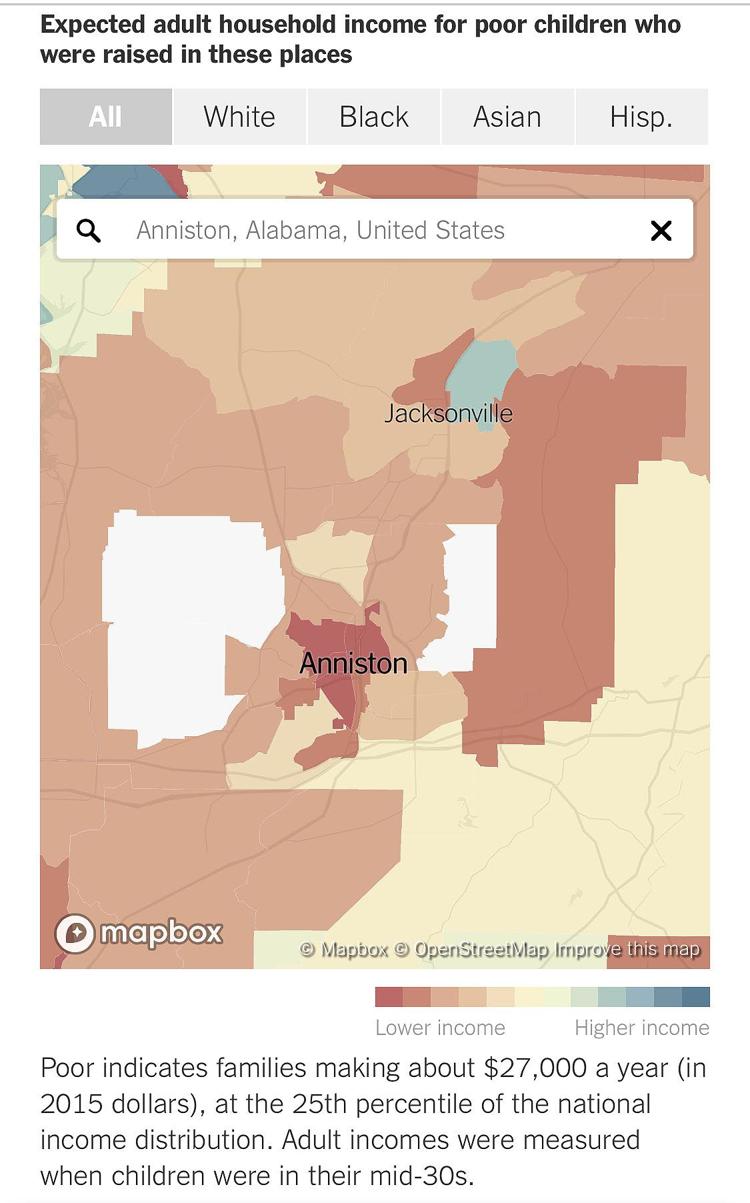 "The defining feature of the American Dream is upward mobility — the aspiration that all children have a chance at economic success, no matter their background," the researchers have written on their website, opportunityinsights.org. "However, our research shows that children's chances of earning more than their parents have been declining. Ninety percent of children born in 1940 grew up to earn more than their parents. Today, only half of all children earn more than their parents did."
That's a perfect description of Calhoun County, by the way. When Anniston's pipe shops were open, its textile plants were hiring and its Army post was alive — say, the 1960s and 1970s — the city fueled the county's economy. It had no peer. But recount the economic carnage since then. Almost everything closed: Fort McClellan, the pipe shops, most textile mills. Anniston Army Depot remains. But nothing of note replenished those losses, especially for poor families reliant on blue-collar paychecks. Economic diversity never took root. The county's young-adult brain drain is real. And Oxford's ballyhooed expansion has provided little countywide relief because a preponderance of its job growth has been in service industries, not middle-class jobs with health-care and retirement benefits.
Around here, the American Dream's upward mobility for poor people is a casualty, not six feet under but wounded.
Remember that aforementioned question: Why are there profound racial differences among poor children in certain census tracts, and why are those differences not seen in others? Six census tracts in Calhoun County are noteworthy.
The Jacksonville tract east of Pelham Road is the county's best for children of poor white families. They're expected to earn $47,000 a year as adults, data show. But kids in poor black families in the same tract lag far behind at $24,000. Similar disparities are seen in the tract covering north Golden Springs, Henry Road and Glenwood Terrace in Anniston ($43,000 for whites, $19,000 for blacks) and the southern Oxford tract that includes Friendship Road ($32,000 for whites, $22,000 for blacks).
Then there are the areas where the American Dream is largely unattainable for poor children of any color: the tract of Oxanna and Hobson City ($21,000 for whites, $20,000 for blacks); the Anniston tract covering west 15th Street ($20,000 for whites, $21,000 for blacks); and the Blue Mountain tract ($23,000 for both whites and blacks).
Regardless of race or gender, there is no worse location in Calhoun County for poor children's chase of the American Dream than the Oxanna/Hobson City tract ($19,000).
The researchers, the New York Times reports, "believe much of this variation is driven by the neighborhoods themselves, not by differences in what brings people to live in them … What matters, the researchers find, is a hyper-local setting: the environment within about half a mile of a child's home."
Make no mistake that race is embedded in this, but this isn't about race. It's about our cities and our streets. It puts a laser focus on lawmakers who decide which neighborhoods get the golden touch and which neighborhoods subsist on crumbs, as if the future of children living in downtrodden areas isn't worth the political effort. Ask yourself: Is your mayor or representative part of this problem or its solution?