Phillip Tutor: Teaching 9/11 on the Creekbank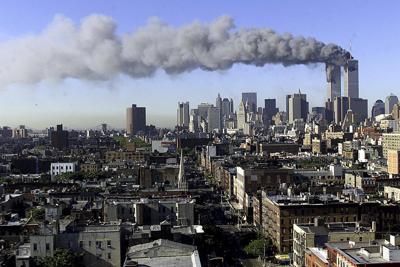 OHATCHEE — It's nearly 11 o'clock Tuesday morning, and Aaron Jackson's Ohatchee High classroom is adorned with yellowing sheets of newsprint saved from the New York tabloids in the days right after 9/11. Some are taped to a wall, others displayed on desks, 22 in all.
Jackson, a second-year teacher, is from Ragland. He's 28.
He was 11 when the Twin Towers fell.
The history students in his class are in the 10th grade. Do the math. They're 15, maybe 16, and were born after Osama bin Laden's Al-Qaida operatives turned hijacked jetliners into human bombs on Sept. 11, 2001. I don't remember Pearl Harbor or the Cuban Missile Crisis, but I do remember the moon landings.
Jackson's students have no memories of 9/11.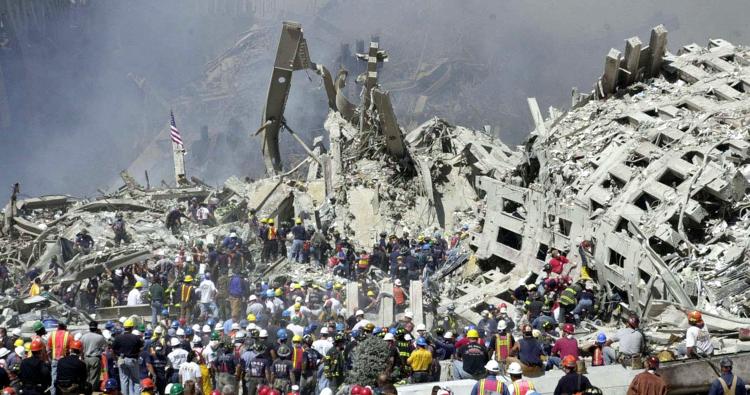 Yet they are America's War Generation, teenagers born during the longest military conflict in the nation's history. They don't know an America not at war in Afghanistan, where U.S. troops first set foot in October 2001 in search of the 9/11 masterminds. To those students, that September day's visceral pain — nearly 3,000 dead in New York City, in Washington, D.C., in a Pennsylvania field — is a concept, an American truth they didn't experience.
"That's why I think it's beautiful to do it with pictures," Jackson said. "It gives them a visual so that they can see what it looked like in real time."
Tuesday was the 17th anniversary of 9/11, and there is no "right" way to teach teenagers about terrorism and war. So Jackson had his students rotate around the classroom and record their thoughts when looking at the newspaper clippings, a sort of 9/11-themed take on musical chairs with aged copies of the New York Post, New York Daily News and Newsday. Jackson gave them 90 seconds at each clipping, then shortened it to a minute.
A student asked if they could work in teams.
No, Jackson told her.
A student started discussing one of the clippings before the others were finished.
Wait, Jackson told him.
Then the discussion began.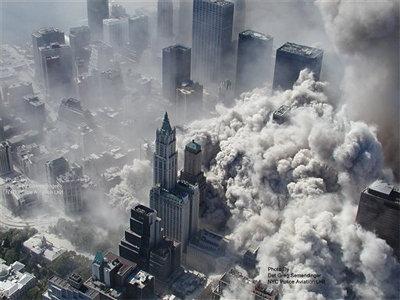 On the wall hung a New York Post front page with a photograph of the burning towers. "Lest we forget," its headline read.
Jackson asked his students: What did you think about when you looked at that clipping?
"People getting killed and getting hurt," one said.
"Hate," said another.
"But a lot of unity (in America) came out of that as well," Jackson told them.
Another clipping featured a photograph of President George W. Bush and a NYC fireman atop the rubble a few days after the attacks. Jackson asked again.
"Mad," a student said.
"Remembrance," another said.
Then Jackson spoke up. "It made me feel confident, that our president was being the leader we needed. It made me feel better about the situation."
Another tabloid headline the morning after the towers fell guessed at the loss of life: "10,000 feared dead — an estimate that far exceeded reality.
Jackson explained that discrepancy to his students, that no one knew how many people were in the World Trade Center offices when the planes hit, or how many people escaped.
He turned to his students.
"The sadness of it. It makes me feel grief and sadness," one said.
Among the most compelling images from 9/11 is The Falling Man, a photograph taken by Associated Press photographer Richard Drew of a man dropping from the upper floors of the North Tower. Jackson had a copy of that photograph taped to the wall.
"It makes me sad that he had to do that," a student said.
"That's one of those kind of moral choices, do you go out on your own terms or do you stay?" another said.
Jackson offered a twist of adult-styled perspective.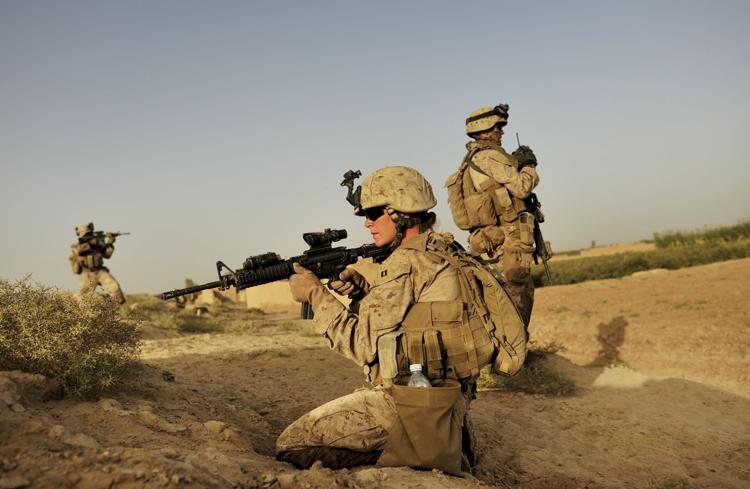 "Can you imagine putting yourself in that situation? No one went to work that morning expecting to do that."
Another photograph showed dust-covered survivors and first-responders, arm in arm, in the grimness of lower Manhattan.
The students noticed the power and symbolism.
"And that's the beauty of this country," Jackson told them. "When it all comes down to it, we're all Americans. No one is asking who you voted for. They're just trying to help people survive. That's why I like that photo a lot."
The bell rang. Students left, others arrived.
Jackson joined in wondering if these 10th-grade students with no recollection of a seminal event in American history appreciated the lessons of 9/11 and the never-ending war it birthed. Can they, even?
"I think you can see that they have a genuine interest — once they grasp the enormity of it," Jackson said. "You can see the difference in their eyes when they're talking to you."