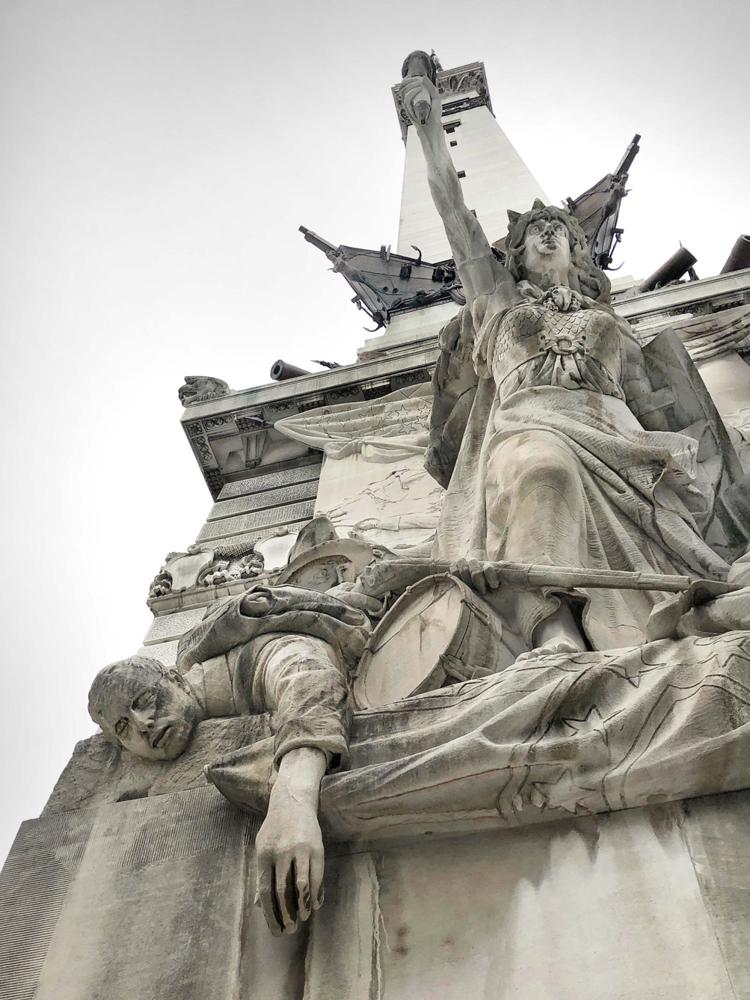 INDIANAPOLIS — Here in the heart of Mike Pence's city, in a spectacular urban space called Monument Circle, a woman is trampling on the Confederate battle flag. Outrage is absent. 
It's a shocking sight for an Alabamian and lifelong Southerner, even for those who consider that awful time in our past nothing short of treason. With few exceptions, our Civil War shrines are carved heroes of Lost Cause lore — Lee and Jackson and Davis and nameless Johnny Rebs, like the sentinel who has long guarded Jacksonville's square — that were erected as shrines to the racially "redeemed" Southern states.
Never forget that Jacksonville's statue features a Jefferson Davis quotation that says, in part, "Be it ours to transmit to posterity our unequivocal confidence in the righteousness of the cause for which these men died."
Truth be told, Indiana is a fine state that drips Midwestern blandness; it's Alabama without accents, hills or kudzu. And the Soldiers & Sailors Monument that centers Indianapolis' Monument Circle may be the state's unrivaled attraction. The speedway out on Indy's western rim wishes it was this impressive.
Designed by a German architect and finished in 1902, the Soldiers & Sailors Monument today is Indiana's official memorial to its war veterans through the early 20th century, though it wasn't built for that purpose. It was, and still is, a sobering celebration of America's victory in what the monument calls the "War For The Union." The often-riled United Daughters of the Confederacy will frown when they hear that.
The monument stands 284 feet, 16 inches high. Reaching the top requires climbing 330 steps or, if you're wimpish or infirm, taking the elevator that only occasionally works. (Birmingham's Vulcan, statue and base, is just 179 feet high.) Lady Victory rises in bronze from the top. Sculptures on the monument's four sides are themed — "War," "Peace," "The Dying Soldier," "The Homefront" — with depictions of battles, suffering, gallantry and defeat.
Then, the flag. 
On "War," a goddess stands between soldiers during battle. Her right arm is skyward. Her hand carries a torch. Underneath her feet is a fallen Confederate battle flag, a dead soldier draping it.
Then, the former slave.
On "Peace," another goddess holds a U.S. flag. To her left sits a former slave — a black man, shirtless, shoeless, his broken chains rising in his right hand.
There may be few places that better illustrate the chasm-like divide between defenders of Lost Cause ideology and the historical accuracy of, as the UDC adamantly prefers we call it, the War Between The States.   
America's unreconstructed Confederates are under siege, which is altogether fitting given the inhumanity of celebrating such an improper cause. Their heroes' statues are coming down. Their flag is toxic. Former Gov. Robert Bentley removed it from the Alabama Capitol grounds. There's a movement in Mississippi to remove the Confederate imagery from that state's flag. Even little-ol' Anniston has largely banned the Confederate battle flag from city property.
At least 114 Confederate monuments, memorials, plaques and other symbols have been removed from U.S. public spaces since 2015, the Southern Poverty Law Center reports. Alabama, though, isn't playing that game. Our state's monument law prohibiting such removals is nothing but a legislative middle finger that would make George Wallace undoubtedly proud. And cities that have dismantled Confederate statues are trying to find takers — a faux garage sale of oversized Lost Cause imagery. 
An attorney in Dallas recently won at auction that city's bronze likeness of Robert E. Lee; he paid more than $1.4 million for it. Confederate statues are in storage in Memphis, in Baltimore, in New Orleans, in Chapel Hill, N.C. Vandalism is a crime, but that hasn't stopped the spray-painting of Confederate monuments in more than a dozen cities thus far in 2019. Last week in Nashville, someone painted words on a Confederate monument.
The paint was red.
So was the message: "They were racists."
As Southerners, we're not accustomed to this brand of historical honesty. In rawness and intensity the civil rights statues in Birmingham's Kelly Ingram Park come close. But either then or now, I can't imagine a prominent Southern city erecting a display as blatantly — no, as gloriously — pro-Union, anti-Lost Cause and anti-slavery as the Soldiers & Sailors Monument in Indiana's state capital.
As Southerners, we should wish that weren't the case.