Phillip Tutor: Sax appeal at Anniston High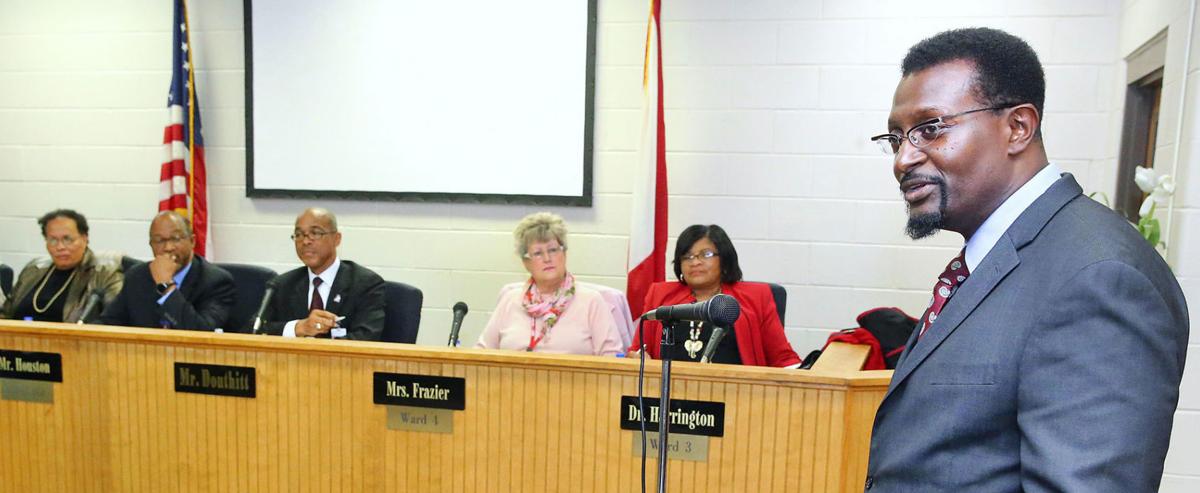 Think you have a tough job? Trade desks with Charles Gregory.
He's the principal at Anniston High School, the Woodstock Avenue institution, and classes begin next week. This city needs its high school to be great, a magnet that attracts. It's Gregory's responsibility, and others', to make that happen. If they fail, Anniston goes with it.
In July, Gregory and two other school administrators traveled to Cambridge, Mass., for a professional development program on leadership at Harvard University. Why? "The success of any organization — but especially a school — really swings on the hinges of leadership," Gregory says. Still, you'd think that was an unnecessary summertime excursion for a 53-year-old retired U.S. Army staff sergeant who served in the first Iraq War, spent 12 years as an assistant principal and pastors an Anniston church.
It's what I thought, at least. Tell me about Harvard, I asked.
It's a fine story.
But then we talked music.
Did you know about his father's talent?
"My dad was a tremendous gospel singer," Gregory said.
Did you know he's played saxophone since the seventh grade?
But "I wanted to play the trumpet," Gregory said.
Did you know he was the saxophone section leader and student band director at Sidney Lanier High School in Montgomery, that he performs at his church, Victory Headquarters Christian Center, and that he occasionally plays for AHS students?
"They think it's pretty cool," Gregory said. "It just gives them an opportunity to see their principal in a different way."
Did you know when he auditioned on saxophone with the 14th U.S. Army Band, his tryout was held at Fort McClellan?
"I had never heard of Anniston, Alabama," Gregory said.
And did you know that when Fort McClellan closed in 1999, the front page of The Star carried a photograph of a 14th U.S. Army Band performance. Front and center was Staff Sgt. Charles Gregory, the band's drum major?
"I didn't know that less than 10 years later I'd come back as drum major of the same band (I auditioned for at Fort McClellan)," Gregory said.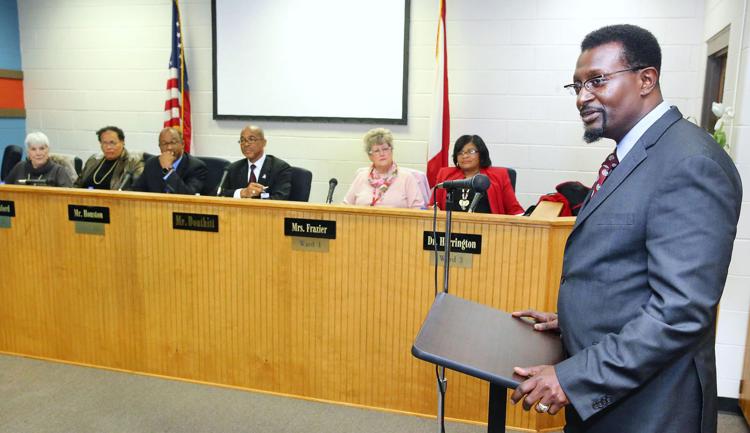 And, yes, before you tire of this stroll down Gregory's memory lane, understand that for Anniston, this stuff matters. This isn't back-to-school fluff. If you agree with Gregory's opener — that success "swings on the hinges of leadership" — that's affirmation of the pressure AHS' principal, Superintendent Darren Douthitt and the faculty are under to transform not only the school's performance, but also its perception within the city it serves.
Hence, Harvard.
But first, let's walk around Anniston High.
Gregory points to a white placard just outside his office. It features a bulldog straddling two sections of a broken bridge. "Bridging The Gap," it says in bold letters, an in-your-face reminder of the achievement gap between top students and those who struggle academically. Those placards decorate the walls around the school. "I want to make sure," Gregory said, "that we provide our students with the type of guidance and instruction that's needed to close that disparity."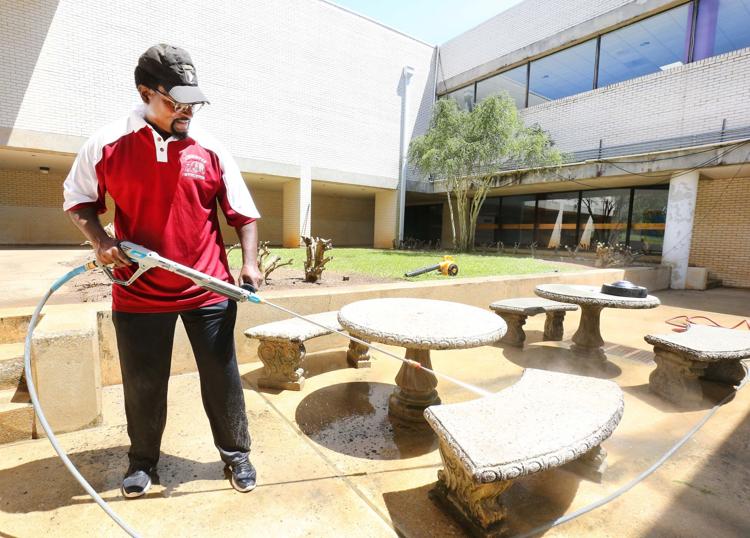 Make no mistake, Gregory is bullish on Anniston High, a cheerleader who wears a tie. He touts what's in store for students when they arrive next week. He's been principal for a year and a half, and he's excited. He's also encouraged that Annistonians have spent the last two Saturdays sprucing up the campus. And yet, he's not ignoring the fact that the state Department of Education lists AHS as a "failing" school as determined by the metrics of the Alabama Accountability Act. The state should publish the academic details of its public schools, but to employ such a pejorative term is a harmful example of bureaucracy gone bad. That label damages more than it informs.
At Harvard, Gregory and assistant principals Phillip Posey and Edward Sturkie enrolled in the university's "Leadership: An Evolving Vision" program that featured 160 educators from 17 countries. Gregory paired with professionals from China, Dubai, New Zealand, Pakistan and Australia. And AHS' attendees were among the few African-Americans there, Gregory said.
"It was life-changing, both professionally and personally," Gregory said. "It was tremendous. It exceeded all of my expectations."
What you're hearing is excitement. About Anniston High. About public education in Anniston.
Granted, the disconnect between AHS and the wide swath of Annistonians who ignore it won't dissolve overnight. That gap, to steal Gregory's word, is wide. But it's easier to believe in the school's future — and, likewise, the city's — when we get to know those whose reputations depend on the outcome. That a saxophone-playing, Iraq War veteran owns a profound role in this story should count for something.