Phillip Tutor: Prep football, God and the law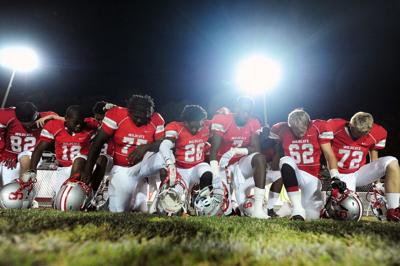 High school football season has started. And God is at the games.
Can't keep God out. If Christians are present, God's there. That's what the Bible says in Matthew. I'm a backsliding Methodist who was married in a Catholic church, but I remember that much.
If God's there, and if Christians are there, prayer's there, an inseparable trio. Anyone can pray. Even unbelievers. So don't swallow the trope that prayer isn't allowed at prep football games, because it is — as long as schools themselves don't organize or take part in it. On that, federal law and Supreme Court rulings are clear.
But, this.
Up in Gadsden, a not-so-minor freakout this week hit the Etowah County Board of Education over the misguided belief that it had banned pregame prayers. The board, of course, had done no such thing.
But this is Alabama, arguably the most religious state in America's Bible Belt.
And this is Alabama, where the state Legislature this year passed legislation allowing public schools to consider placing the "In God We Trust" motto in classrooms.
And this is Alabama, where voters in November may approve a constitutional amendment to allow public schools to display the Ten Commandments.
And this is Etowah County, home to the defrocked former state Supreme Court justice who defied a federal court order against placing a Ten Commandments monument in the state judicial building.
And this is Etowah County, where a pregame prayer last fall recited over the PA system at Sardis High caught the attention of the Freedom from Religion Foundation, which complained in a letter to the Etowah board. "It's a tsunami of Christian national laws in our country right now," Annie Laurie Gaylord, the foundation's co-president, told The Associated Press.
Hence, this recent reminder to Etowah schools that board policy forbids pregame prayers on the PA because that would violate federal law — but that prayer otherwise is OK.
Imagine being these guys.
Jim Turnbach, attorney for the Etowah County school board: "As distasteful as it may be at times, the board is going to follow the law," he told The Gadsden Times.
Alan Cosby, superintendent: "The Board of Education will follow applicable federal laws. We will seek to stay within the law."
Turnbach, again: "I think (rumors have) caused people to get emotional about something that's not even the case."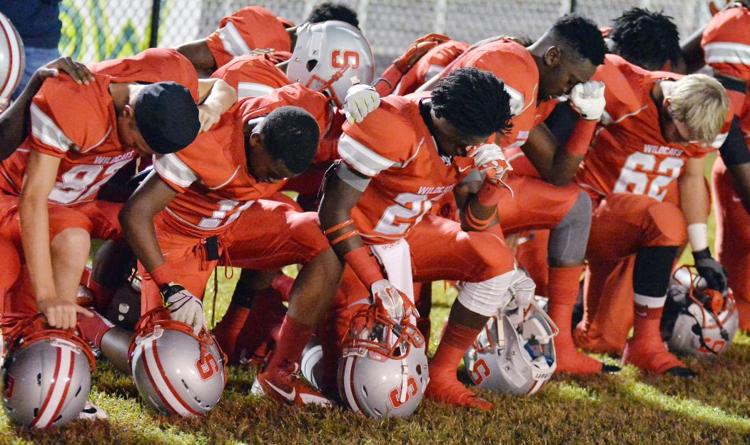 That's right. An attorney for a public school board described adhering to a federal law that prevents discrimination through state-sponsored religion as "distasteful." Let's assume that's merely an unfortunate word choice.
The law the Etowah County board attorney isn't fond of is part of a series of laws and court rulings that date back more than five decades, beginning with twin Supreme Court rulings in 1962 and 1963 that declared school-sponsored prayer and Bible readings unconstitutional. A roster of associated state laws and court rulings have followed. In Etowah County's case, it's a 2000 Supreme Court ruling that's in play.
In that Texas case, justices ruled that "because the school was a public institution, because it was involved in the selection of the speaker, because the message was broadcast over the stadium's PA system to a captive audience, and because the communication occurred at an official school function, members of the crowd would certainly interpret the prayer as a school-sponsored message," attorney Lee Green wrote last year for the National Federation of State High School Associations.
There's no other way to interpret it. No school would allow a PA prayer of which it didn't approve. And if you disagree, ask your school's principal if he or she would allow a Jewish, Islamic, Buddhist or Sikh prayer instead of a Christian prayer.
The fallacious notion that God has been taken out of America's schools is a remnant of those transformative 1960s court rulings, and it's demonstrably false. In most cases, schools today are filled with opportunities for students of faith to express themselves, from Fellowship of Christian Athlete chapters to "See You At The Pole" prayer events. "We've gone from virtual silence about religion in the curriculum and virtually no student religious expression in many schools to today, when ... students are expressing their faiths in many different ways in many public schools, if not most," Charles Haynes, head of the Religious Freedom Education Project in Washington, D.C., told The Christian Science Monitor in 2013.
Here's the point critics of these laws habitually miss: the Supreme Court's 2000 ruling "clarified that the Constitution's Establishment Clause does not 'impose a prohibition on all religious activity in our public schools. Indeed, the common purpose of the Religion Clauses is to secure religious liberty,'" Green wrote.
Religious liberty for all. That's the important part.