There is a passage in Chris Christie's new book, Let Me Finish, in which he recounts everything you need to know about Christianity and faith's place in President Trump's life.
Disclaimer: This isn't a column about Christie or Trump. It's about Christianity and the Bible and public schools.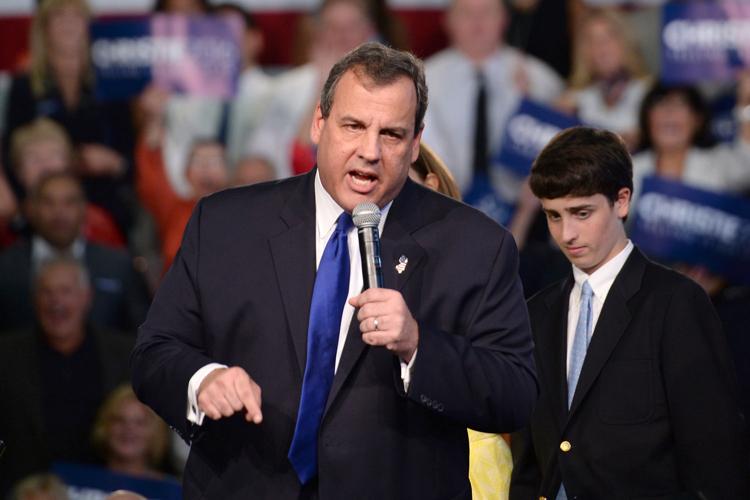 In his book, Christie -- former New Jersey governor, longtime Trump acquaintance, one-time Trump administration transition chief -- tells of the day he introduced then-candidate Trump to then-Indiana Gov. Mike Pence, an evangelical Christian who would become Trump's running mate. The passage is so juicy that this week it's making the rounds.
Before the meeting, Pence said a prayer.
Later, Trump turned to Christie.
"Does he do that all the time?" Trump asked.
"Yes," Christie said.
"Interesting," Trump said.
Trump saw Pence's prayerful ritual as an oddity, a quirk, perhaps a weakness. Who does that? Who prays before a meeting? To Trump, Pence's behavior was peculiar enough to deserve comment. Trump famously doesn't drink because of alcoholism's effect on his family, but he is no verbal teetotaler. He curses, he's crude and he's the same bully today as he was when he was in school at New York Military Academy.  Except that he's now president. He's been married three times and paid off porn stars after trysts. He regularly mocks subordinates and uses Twitter as his personal delivery system for name-calling. What a guy. Ethics are anathema to him. But pray before meetings? Who does that?
Juxtapose all of that with this:
Trump took to Twitter (of course) earlier this week to offer his approval of a national movement to include Bible literacy courses in U.S. public schools. It was one of those quintessential Trump/Fox News mashups that could only happen in 2019: Hosts on Fox and Friends, the president's favorite morning show, discussed Bible literacy courses during a segment, and minutes later the president hit his tweet button. Thank goodness Trump doesn't binge on Beavis and Butt-head reruns.
"Numerous states introducing Bible Literacy classes, giving students the option of studying the Bible. Starting to make a turn back? Great!"
Numerous states introducing Bible Literacy classes, giving students the option of studying the Bible. Starting to make a turn back? Great!

— Donald J. Trump (@realDonaldTrump) January 28, 2019
That's politics. Especially in this era of Republican Party politics that has taken a once-respected party and turned it into an absurd clownshow. Bible literacy classes in public schools will hardly be a turning point in the 2020 election, but giving them a Twitter shoutout is low-hanging fruit for a president who may implode if he doesn't retain the core of the white, older, evangelical bloc that's propping up his awful polling numbers.
Problem is, advocates for Bible literacy classes would never choose this guy as a spokesman. It's Bill Clinton advocating marital fidelity. It's Hugh Hefner promoting magazine journalism. It's Pete Rose teaching the value of truth-telling. It's Ivanka Trump selling a clothing line at Walmart. It's Gen. George B. McClellan demanding aggressive military action. It's Robert Bentley saying Clinton should have been removed from office. It's Eddie Van Halen quietly strumming ballads. It's Bear Bryant believing in the worthiness of a good loss. It's Chris Christie hawking Peleton exercise bicycles.
Yeah, right.
Nevertheless, Bible literacy bills are all the rage in a handful of states this winter. (That's why Fox and Friends was yapping about them.) Lawmakers in six states -- Florida, Indiana, Missouri, North Dakota, Virginia and West Virginia -- will debate Bible-literacy proposals when their legislatures convene this year. Those states, you'll notice, are usually solidly Republican or close to it.
State Rep. Lynn Greer, R-Rogersville, tried to get one of those bill through the Alabama Legislature last year, but it was all for show, red meat for Republicans. And why? Because the state Board of Education already allows Bible literature classes in Alabama public schools. Last January, The Star's Tim Lockette reported that 453 students statewide were taking those classes, including "10 students in Alexandria High, 13 at Wellborn High and 13 at White Plains."
Even Randall Marshall, legal director for the American Civil Liberties Union of Alabama, saw through that legislative ruse designed to appease GOP voters. "There's nothing inappropriate about teaching religious texts in an educational setting. The devil is in the details. It's when the teacher presents it as religious truth that it crosses the line," he said.
That's the crux. Bible-as-literature classes are valuable electives for high-schoolers -- if they're taught as intended, not as lessons from Sunday school classes. But in a state like Alabama, where voters last November overwhelmingly passed an initiative that allows the Ten Commandments to be posted on state property, there's always room for doubt and missteps.
Trump surely didn't know this deep backstory about Bible literacy classes when he fired off his tweet this week. The facts would have disinterested him.