CHOCCOLOCCO — Out here, it's easy to forget you're near anything. Green surrounds you, hues of farmland and pine trees and grass. The Appalachian foothills catch your eye. There's more here now than there used to be, but it still is and always will be Calhoun County's most bucolic place, quiet and mostly still.
None of that is lost on Richard and Stephanie Hardin, it seems. Richard's from Anniston and has lived all over the world. Stephanie's from Chattanooga. Two years ago they relocated here to help with his family's business, Communication Associates in Golden Springs. Out on Choccolocco Road, past Pine Hill Country Club and not quite to Alabama 9 is Hardin family land. Richard and Stephanie plan to turn it into a folk- and fine-arts camp for kids.
Early last year, they hung a blue-and-red sign with an American flag-themed heart on the fence. You can see it easily from Choccolocco Road.
"HATE HAS NO HOME HERE," it reads.
It repeats the phrase in five other languages: Hebrew, Arabic, Spanish, Korean and Urdu.
Yes, Urdu.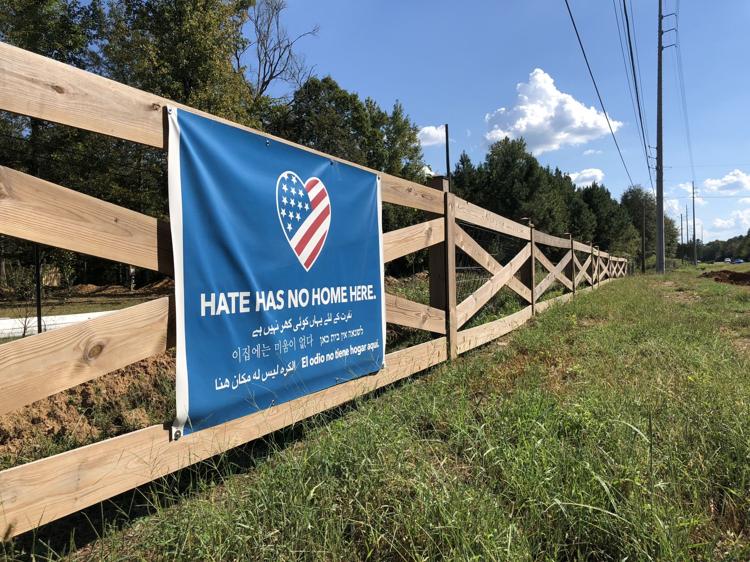 "With an environment where hate speech is almost welcomed in our country, I want to make a place where everybody is welcome," Stephanie says. "We are Christian, we go to church (Grace Episcopal in Anniston), but we don't think it's our duty to convert the world. We want to have a place where everyone feels welcome. When people drive by, I want them to know that's what we stand for."
Or, as Richard says, "It's sort of our mantra, how we try to live our lives."
As inspiring as that sounds, here's where the Hardins' story blossoms into something more grandiose than a single sign on a fence along Choccolocco Road. It traces to the North Park suburb of Chicago, one of the Windy City's most diverse neighborhoods whose local elementary school has 920 students who, according to the Chicago Tribune, "speak 43 languages at home."
North Park and Choccolocco couldn't be more dissimilar.
Up there, a group of North Park parents chilled when the national rhetoric following President Donald Trump's election turned shockingly vile. They hatched a plan to create a poster for their home windows that denounced the speech of racism and division. A North Park third-grader proposed the "Hate Has No Home Here" headline. A local graphic designer created the sign. And this non-partisan, grassroots community project born out of the Trump era's rise of hate speech has become a national effort to promote inclusion. There are thousands of these signs across the country.
"The Hate Has No Home Here movement is built around a simple idea: it's easy to hate people we don't know," the movement's organizers have written. "When neighbors of different races, religions, and nationalities move past indifference to investment in one another, we knock out the underpinnings of racism and intolerance, and make possible a better future for our communities."
The Hate Has No Home Here website details the movement's beginnings and message. It also allows people like Richard Hardin to download the artwork and have signs printed locally for use around the world, from the Chicago suburbs to a fence in Choccolocco.
By the way, this isn't political for the Hardins. Stephanie's family is largely Republican, she says, as is her husband's. They're not making an overt statement about the president or his party. "I think the message is that it shouldn't be political, it should create some contemplation," Richard says. The wisdom in that statement is overwhelming.
But in a region where divisive symbols of the failed Confederacy are ubiquitous — symbols intrinsically linked to racism and white supremacy — the Hardins are promoting something else: peace and inclusion of all.
"I want that to be the message," Stephanie says.
The Hardins aren't naive, of course. They know what people may think. That they're hopelessly different. That they're oddball progressives living in an overwhelmingly conservative county. That their message may not be welcomed. They also don't seem to be bothered by any of that, and they shouldn't be. After all, they did put up that sign.
Thus far, no one's stopped by the Hardin land to complain. But a year ago, Richard found a note left at one of the gates to his property.
"Thank you for the sign," it read, a symbol of peace out here in this peaceful place.