Phillip Tutor: It's on JSU to explain its decision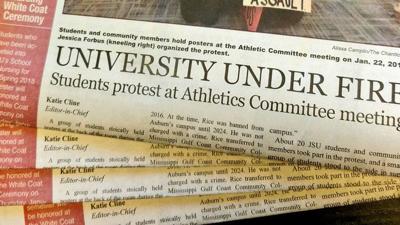 In the fall of 2016, Jacksonville State University uploaded a video to YouTube that poked the eye of those with lackadaisical concerns about sexual assaults on campus. It was powerful, moving, and spot-on correct. Then, and now.
A gaggle of students — Greeks, the homecoming queen, members of the NAACP and ROTC, Miss JSU, the editor of the campus newspaper, officials from the Student Government Association, blacks and whites and men and women — took turns reading from a script related to the "It's On Us" national campaign of the Obama administration.
The video began this way:
"It's on us, all of us here at Jacksonville State University, to stop sexual assault, to cultivate a safe community, to be proactive and support survivors. It's on us, all of us. Be a part of the solution."
All of us, they said.
Be proactive, they said.
Support survivors, they said.
Good for them, and good for JSU.
Then came Monday, when a smallish group of students and alumni attended an athletics committee meeting of the Board of Trustees. They were concerned about JSU's recent decision to allow a football player previously banned from Auburn University's campus because of a first-degree rape case to play for the Gamecocks.
Trace Fleming, a 2006 JSU graduate, attended the meeting. She loves JSU, unequivocally. When she speaks of the place, her voice rises an octave or two. "I can't stress that enough," she says. "I came to Alabama to go to JSU. I absolutely love it." She serves in her day job as the sexual assault program director at Anniston's 2nd Chance, which assists and advocates for victims of domestic and sexual violence.
"I was so incredibly impressed with the students and the recent alumni who showed up," she said. "That proves that the preventative efforts that have been done on campus for the last 10 years or so are working."
But, "I was disappointed that it didn't appear to me that (the student and alumni) voices were heard. The Board of Trustees, who I respect, and the president, who I respect, have an opportunity to really do more active listening to their student community."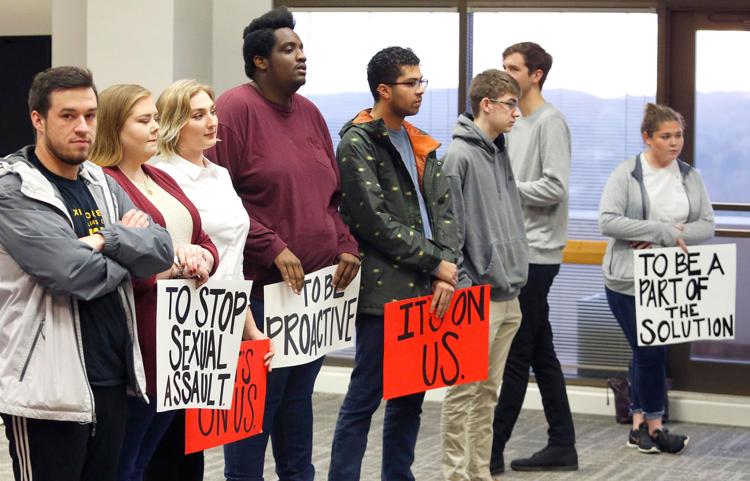 Listening would be a constructive start since they're not offering any substantive details about why former AU player Landon Rice, the son of a JSU graduate who briefly coached at The Donoho School, will don Gamecock red this fall — other than he's a heck of a tight end and talks with Auburn brass went well. What they're essentially telling alumni and students is that you'll have to trust us. And don't ask about it.
Since Monday's meeting, I've sent emails and left messages with officials on the Friendliest Campus in the South: President John Beehler, the SGA president, staff members who operate on-campus counseling services, even trustees themselves. Back came a single response, which read:
"I've been instructed to direct any requests for comment on this situation to (Director of Public Relations) Buffy Lockette or (Athletics Director) Greg Seitz." In a later email, Lockette wrote that Rice "is a student in good standing" and deferred questions about Rice's background checks to Seitz.
In truth, all students and alumni have from the university are a few boilerplate comments from Beehler, board members and Seitz. In those statements, we're told that JSU investigated Rice, visited with Auburn officials and, per Seitz's statement, got "all of the facts surrounding the investigation," whatever they may be.
Don't misconstrue this. I graduated from JSU, but it owes me nothing. In this instance, I'm just a journalist. But it owes students, faculty and prominent alumni more explanation than what it's offered thus far. If there are substantive reasons supporting this decision, unveil them so the reputations of the university and the people involved aren't damaged further.
Granted, it's a complicated case: A Lee County grand jury didn't indict Rice; in texts he sent to the victim, according to court and media reports, Rice wrote, "There is nothing I can do to make it right. I am really sorry;" and Auburn now says Rice is in "good standing" at that university and the sanctions against him have expired, an incomplete statement that's seemingly at the heart of JSU's defense of its decision.
Does that mean Auburn would allow Rice to re-enroll there?
Don't know. Auburn won't answer that question, either.
Nowhere in the AD's statement, and virtually nowhere in trustees' comments, are mentions of the victim. It's an unforgivable omission. For Fleming, the sexual abuse counselor, it's worse than that. "I know that when you're looking at victims/survivors of these crimes, you are looking at a person whose life has been completely and significantly altered for the rest of their lives because of one other person's actions." And never forget that national data show that only 20 percent of college women who are assaulted report the crimes. Why? Because they fear intimidation, retaliation and indifference.
JSU is getting a fine football player, but those who care about the university and live on its campus aren't getting what they deserve — respect and answers.