Phillip Tutor: Is Calhoun County better than its ancestors?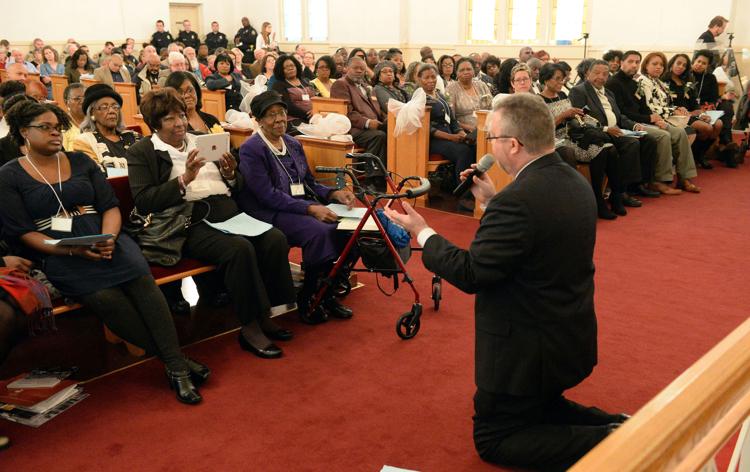 Six months ago, on a spring Saturday in LaGrange, Ga., a white Methodist preacher went to his knees on the floor of a black church and sought absolution.
"On behalf of the priests and the Levites," the Rev. Brian Germano began, "who did nothing and said nothing, I want to ask forgiveness to the family of Louie Strickland for not speaking up and not standing by him, for not standing behind your family member, for not supporting him, for not being a faithful member of the clergy, for not being a faithful member of the Christian community like we should have done."
Applause of affirmation lifted Germano to his feet.
Nothing tangible had changed. The past remained unaltered. Austin Callaway, a black man stolen from the LaGrange jail and lynched in 1940, was still dead. Strickland, that city's most prominent black preacher of his day, never received collegial support for his crusade against mob violence of white supremacists. He fought. Others turned away.
But Germano, of LaGrange's First United Methodist Church, and fellow clergy members accepted the challenge. They prayed. They acknowledged these awful truths. They defied demands that eternal silence shroud these evils. And they helped pilot a community's need to reconcile and forgive.
If that sounds familiar, there's a reason. Back in the day, the biracial Committee on Unified Leadership (COUL) proved invaluable in Calhoun County's efforts to avoid the worst racial problems and promote equality, particularly in Anniston. In LaGrange, the two-year-old Troup County Trust Building Initiative is today providing a similar service that's creating events like the one Germano participated in.
What's more, LaGrange's racial trust-building talks helped import the Montgomery-based Equal Justice Initiative to Troup County earlier this year. The EJI's Community Remembrance Project, which documents and recognizes racial terror lynchings in the South, is not a civic rebirth. Instead, it's a conversation, a start to something endlessly worthwhile. Besides LaGrange, it's happened in Gadsden. And Tuscaloosa. And Brighton. And tiny Letohatchee down in Lowndes County. And Abbeville, S.C. Plaques have been erected. Ceremonies have been held. Scholarship money has been awarded. In those communities, reconciliation has begun.
No other place in Alabama is better suited for the EJI's next lynching project than Calhoun County. No place, indeed.
Besides documented lynchings in Oxford, Jacksonville, Piedmont and Anniston, racial uncomfortableness litters our history: the Freedom Riders bus attacks, the Willie Brewster murder and conviction, Wellborn's racial unrest in the early 1970s, the beating of black preachers at Anniston's Carnegie Library, even the divisive words of Councilman Ben Little, who sees the most benign council actions through a lens blurred unnecessarily by race.
Our faults, however, don't wholly define us, thanks in part to the legacy of COUL, without which Anniston of the early '70s might have imploded, and the fledgling Freedom Riders national monument. Count those as blessings.
The lessons of LaGrange, as vital as they are, start and end in one place: with the people. The EJI didn't kickstart Troup County's healing. Germano is adamant about that. A grassroots effort of politicians, LaGrange's police chief, clergy, educators and business leaders came from within, not from outsiders. And still, dissenters complained. It's ludicrous, they said, to dredge up old injustices and force-feed aging racial issues on an entire city.
I have no doubt Calhoun County would face similar complainers if local leaders recruited the EJI's Community Remembrance Project for northeast Alabama, which they should.
Here's what Germano would tell them:
"Why shouldn't we be better than our ancestors? If we say we are more racially tolerant, let's do something that our ancestors wouldn't do. Our ancestors screwed this up big time. And we're apologizing for it. We're not going to continue this cycle of silence."
Nevertheless, "There's plenty of people here who don't want to have any part of this," he said. "They think this is just stirring the pot. But there are enough white leaders who think this is a first step. And if you talk to black leaders, you'll hear that this isn't enough, that there needs to be more than just talk."
Of course it does. By itself, a plaque solves nothing, but it is something — an acknowledgment, a discussion-starter, another barrier of lingering racial resentment torn down.
What is it that opened people's eyes in LaGrange? And what about Gadsden? And Tuscaloosa? And the other communities that have partnered with the EJI to recognize these terrible events of the past? In those places, feelings of humanity, of doing what's right because it is right, have bubbled to the surface.
Those who cheered Calhoun County's Freedom Riders national monument know what's right. Reconciliation, one step at a time, always moving forward, hand in hand.