ALEXANDRIA — The sprawling, hilly campus of Calhoun County Schools' largest high school features no metal detectors or gated entrances. Its teachers aren't armed. A bomb-sniffing dog doesn't guard the front door. But a peek inside provides a glimpse of America's educators in the era of Columbine, Sandy Hook and Parkland, and expectations that they will happen again.
Around 8:15 Thursday morning, Alexandria High School students trickled from their first-period classes. Rooms emptied. Feet shuffled. But easily lost amid the routine's monotony were administrators' efforts to watch over the school and its 600-plus teenagers.
Signs near the front door declared Alexandria a gun-free campus.
A Calhoun County Sheriff's vehicle sat near the main entrance.
Alexandria's school-resource officer walked the front hallway.
Further down, in hallways and stairwells and classroom doors, stood teachers and administrators, eyes wide open. First you bumped into Mack Holley, the principal. Later, Doug O'Dell, his assistant. Then the bell rang, the second period began, and the hallways turned quiet, a sleepy pattern constantly repeated.
Nothing about the hour I spent Thursday at Alexandria with Randy Reaves, director of safety and security for Calhoun County Schools, was remarkable. Had it not been for the ubiquitous Valley Cub orange trimming the hallways and trophy cases, we could have been at any school, at White Plains, at Wellborn, at Saks. Such monotony is how school administrators like it, particularly those whose stress levels skyrocket when something, or someone, goes amiss.
"We try to remain in a heightened state of mind all the time," Reaves said of the county school system, "rather than be caught off guard."
Everything about these discussions falls into two categories, pre-Columbine and post-Columbine. That 1999 shooting in Colorado forever altered America's schools and ramped up foolish suggestions for turning them into militarized camps as protection against the next armed madman.
In a sense, change has only been incremental. The biggest alteration since 1999 is the tactic police now use when responding to mass shootings, whether at schools or movie theaters or concert halls. Columbine showed the only way to minimize death tolls is for officers to immediately rush shooters and eliminate the threat. Minutes wasted are lives lost.
The school shootings, though, haven't slowed. A whole class of first-graders died in Newtown, Conn. And university students at Virginia Tech. And community college students in Oregon. And teachers and students last month in Parkland, Fla. And an innumerable amount of other students on K-12 and higher-ed campuses in nearly all 50 states, two and three and four dead at a time, so many that it's hard for researchers to keep up. School shootings with single-digit body counts don't warrant much national attention anymore.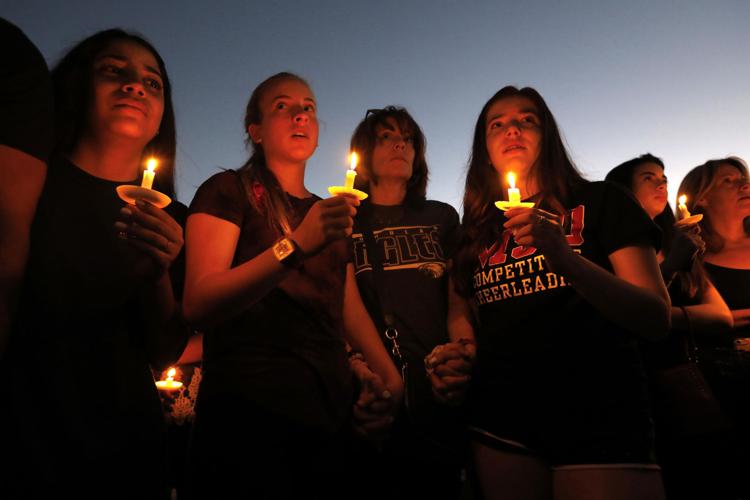 Those shootings and the constant threats of school violence have created American communities Reeves describes as "hyper-sensitive," and who could blame them? Reeves is right. Just this week, a 13-year-old student in Jacksonville was arrested for using a picture from Columbine on Snapchat. Coosa Valley Youth Services acknowledges an increase in the number of juveniles detained there for making threats. Researchers at the Educator's School Safety Network say an average of more than 70 such incidents have happened daily in America since the Parkland shooting. That's more than 800 in less than a month.
Nationwide, the post-Parkland threat bump is real.
"I think a lot of these threats that get made are by someone seeking attention and maybe not thinking through what the repercussions will be," Reaves said. "Kids don't see what's coming when they make comments or posts (online). But you've got to take the threats seriously."
The painful truth is that no feasible solution exists to keep schools completely safe. Calhoun County Schools has seven armed resource officers, one per campus, but they're stretched thin covering multiple buildings at each location. Arming teachers is political gamesmanship, a foolish ploy from Washington. Metal detectors are expensive and not a catch-all solution. And most schools are virtually impossible to defend because they have too many windows, entrances and ways for anyone armed to get inside.
Here's an assignment: Visit your child's school and count the number of unlocked entrances. It's food for thought.
None of this, by the way, is going away. America's schools exist in a world in which high-powered weapons are easy to get, mental health services aren't adequate and politics poison sensible solutions that value lives over profits. It's as if we have only two choices: school safety or the Second Amendment.
Meanwhile, school officials are working as best they can, with what they have, for the students left in their charge.
"We're doing everything we can to prevent (these events) by listening to our parents and students," Reaves said. "If you hear something, we want to know it."