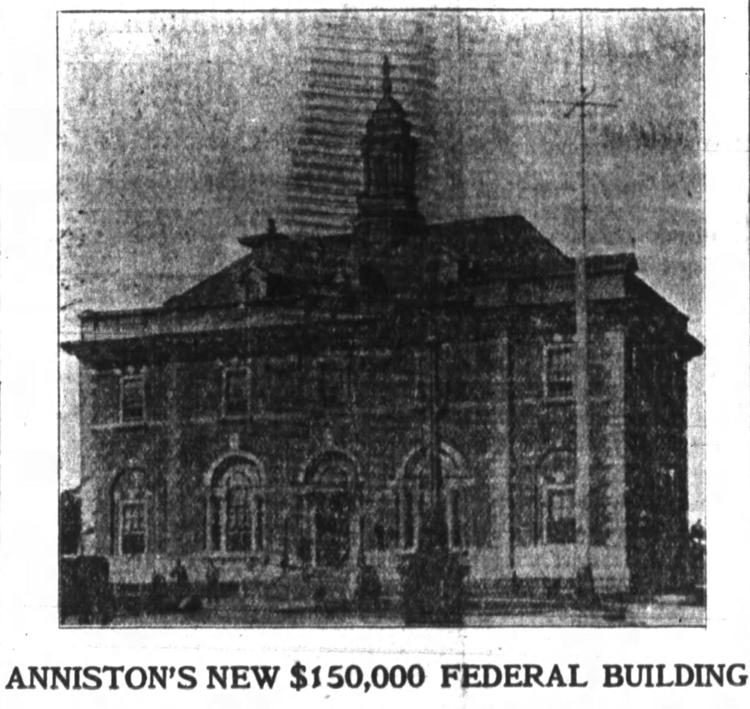 Since Anniston is awash in federal courthouse fever, there are a few things everyone should know:
Anniston might not have a federal courthouse today if it weren't for a former congressman who was the first cousin of an influential Alabama attorney, the great-grandson of a Scottish-born Revolutionary War major and the son of a captain in the Alabama cavalry during the Civil War.
That's not all.
Anniston's current federal courthouse is so old it was being built when Ty Cobb was playing baseball at Zinn Park.
That's not all.
The foundation of Anniston's federal courthouse — the one still standing at 12th and Noble — was built twice. 
That's still not all, but it's a good start since we've now seen the design renderings of the new regional federal courthouse planned for Gurnee Avenue. What's more, the fuss City Hall is making over this — well, most of City Hall, at least — closely resembles the excitement when Anniston's first federal courthouse was built way back when.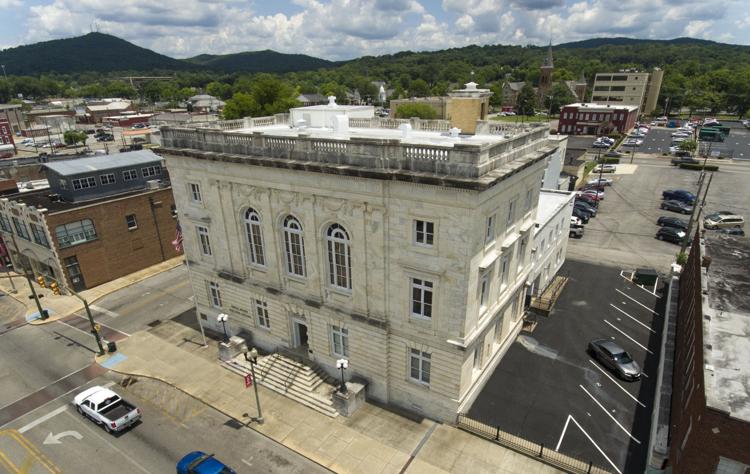 Don't let anyone convince you that the federal government's $42 million investment in downtown Anniston is either money wasted or a minor event. It is neither. Plus, be honest: Who else is investing that kind of coin in Anniston? That queue is short.
Here's a concise explanation. "Its significance," Mayor Jack Draper says, "simply can't be overstated."
This all starts back in the late spring of 1899, when the U.S. House of Representatives passed H.R. 11214 — "An Act for the Erection of a Public Building in Anniston, Ala." — that called for the federal government to build a "substantial and commodius building, with fireproof vaults, for the use and accommodations of the post office, and for other government uses" and spend no more than $50,000.
 Milton Smith, editor of The Hot Blast, a predecessor to this newspaper, thought $50K — $1.546 million in today's money — was a low-ball price tag. "Anniston must not only strike for a federal court but she must have a $100,000 federal building," he wrote.
H.R. 11214 needed amending to clarify its legalese. That took a year.
The first design plans arrived in Anniston in August 1902. City Hall was pleased. The Hot Blast made a promise: "New Post Office Will Be A Beauty." The plans, the newspaper wrote, "are elaborate, covering every detail of the building. They provide for a handsome stone structure ... very artistic, very pretty and admirably arranged for the convenience of the public."
Construction began at 12th and Noble. A foundation was laid. But U.S. Rep. Sydney Johnston Bowie wasn't satisfied. 
Bowie, a Talladegan by birth, was the great-grandson of Maj. John Bowie, who was born in Scotland and led South Carolina soldiers during the Revolutionary War; the son of Capt. Andrew Bowie, who led Co. A of the 8th Alabama Cavalry in the Civil War; and first cousin of Anniston attorney John B. Knox, architect of Alabama's abominable 1901 Constitution.
Beyond that, Bowie agreed with Milton Smith. He thought the project required more cash. First, another $25,000. Then, in 1903, another $75,000 — which raised the total appropriation to $150,000 but caused a delay because architects had to redraw their plans. (He also pushed through another bill, H.R. 14512, that reorganized the northern district of the federal courts in Alabama and strengthened Anniston's need for a federal building.)
The delay dipped into September, the foundation gathering weeds at 12th and Noble.
The delay reached December, with construction scheduled to resume around May 1.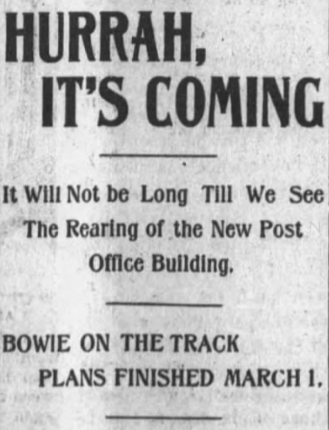 In February 1904, with plans still not finished, The Evening Star — another forerunner of this newspaper — tried to hide its excitement. "Hurrah, it's coming," its headline read. 
In August, the feds imported Elmer C. Ball, a superintendent who had recently completed a federal building in Tampa, Fla., to oversee the long-delayed project.
Finally, work began in the fall of 1904. Bowie brought the federal cash and Ball put men to work. The first foundation was replaced with a second. Solid oak furniture was ordered in January 1905. The final large marble stone was hoisted into place in May, with roof work to follow. Furniture arrived in November, awnings two months later. Workers graded and manicured the grounds that spring, a few weeks before the arrival of the last shipment of oak furniture.
By then, it was well into 1906 —  seven years after H.R. 11214 passed in Washington. Though late, that "handsome stone structure" was among the grandest buildings in Anniston at the time. 
As for Draper's recent words about this new federal courthouse in Anniston — "Its significance simply can't be overstated" — they would have rung true back then, too.