Tommy Tuberville is perfect for Alabama politics.
Please, Alabama Republicans, give him your nomination.
Please, Alabama voters, send him to the U.S. Senate.
We've done worse, right? We repeatedly elected Big Jim Folsom, who never met a female voter he wouldn't court. We elected George Wallace four times. We winked when he elected a proxy who — oops! — happened to be his wife, Lurleen. We cheered when he ran for president. Then we elected him again. We elected a Primitive Baptist preacher as governor, Guy Hunt, who was found guilty of flying to preaching gigs in taxpayer-funded state airplanes. We elected the unknown Robert Bentley as governor, and he resigned after his wife caught him in a love affair with his top advisor and the Legislature started impeachment proceedings. We elected Roy Moore twice as chief justice of the state Supreme Court, and twice he was removed for having the ethics of a horned frog. In 2017, we nearly sent him to Congress despite credible claims that he had committed sexual misconduct against young women in Etowah County. Seriously. We nearly sent Roy Moore to Congress. We'll never live that down.
Tubs, the erstwhile Auburn football coach, will fit right in.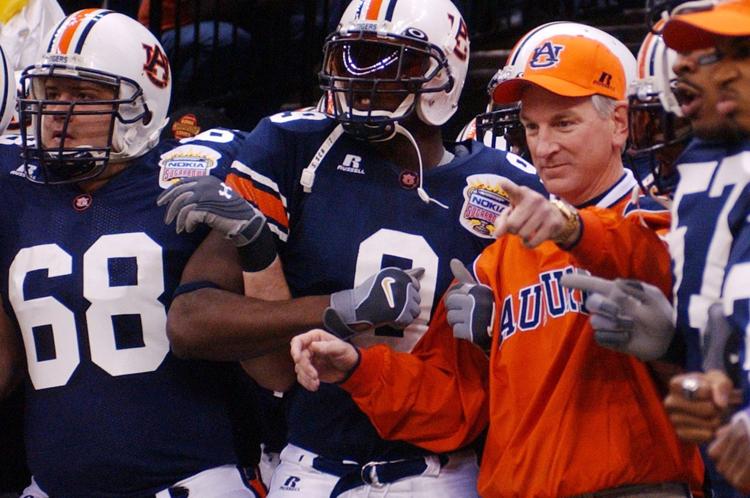 He's slippery with the truth.
As the coach at Ole Miss, Tuberville won enough games to earn Southeastern Conference Coach of the Year honors and take calls from suitors. Auburn called. Tuberville, adamant and disingenuous, gave a statement designed to quell Ole Miss' fears of losing its coach to a deeper-pocketed rival: "They'll have to carry me out of here in a pine box."
Except, that didn't happen. Auburn carried him out of Oxford, Miss., and doubled his salary. So much for the pine box. It was a sham.
He's slippery with his ethics.
As the coach at Texas Tech, Tuberville and his assistant coaches attended a Friday night dinner with high school recruits at Lubbock's 50 Yard Line Steakhouse. At one point, he left the table. (Bathroom break? Phone call? Who knows.) He didn't return, his steak uneaten. He literally left his high school recruits at the dinner table.
The next morning, he took a job at Cincinnati.
"Everybody was going crazy," Devonte Danzey, one of the recruits, told the Lubbock newspaper. "The players were shocked, too. We still had a good time at night, but it was crazy how he just got up and left out of nowhere and left people in the dark and in the shadow."
He's slippery with his tongue.
As the coach at Cincinnati, he bickered with a fan after a late-season loss at home to BYU in 2016.
Fan: "Hey Tommy, you're stealing. You're stealing from this university. You're stealing, Tommy!"
Tubs: "Hey, go to hell. Get a job. Get a job!"
Tuberville later apologized, sincere or not.
Days later, with fans razzed over Cincinnati's worst season in six years, Tuberville doubled down on his commitment to that job. "I'm here to build a program," he said. "I'm not going anywhere. I didn't come here to leave. I came here to stay, and our program is much better right now than it was when I got here."
Three weeks later, he stepped down.
Back in Alabama, he's dipped his toe a time or two in our political pond but hasn't jumped in until now. Remember when he mulled a run for governor, thinking he offered a repair for the damage from Bentley's disastrous tenure?
"I really intended to pull the trigger on that," he told WBRC-6 last October. "Leadership is what's needed in a lot of these political venues, but when Bentley was impeached and (Kay) Ivey moved up, I figured she's a good Auburn lady and, hey, let her go, she's probably going to run again, I pulled out and the rest is history."
That's big-time political strategizing there. Tubs didn't run because Ivey is a "good Auburn lady" — and look at her now, re-elected and popular as sweet tea. Guess he knew what he was doing.
In that same interview, Tuberville took credit for Nick Saban being coach at Alabama since his Auburn teams habitually beat the pre-Saban Crimson Tide. "If it wasn't for me, you wouldn't have Nick Saban. I ran the rest of (those coaches) off."
Perhaps that could be Tuberville's Senate campaign slogan.
Vote for me. I gave you Nick Saban.
In Alabama, it just might work.