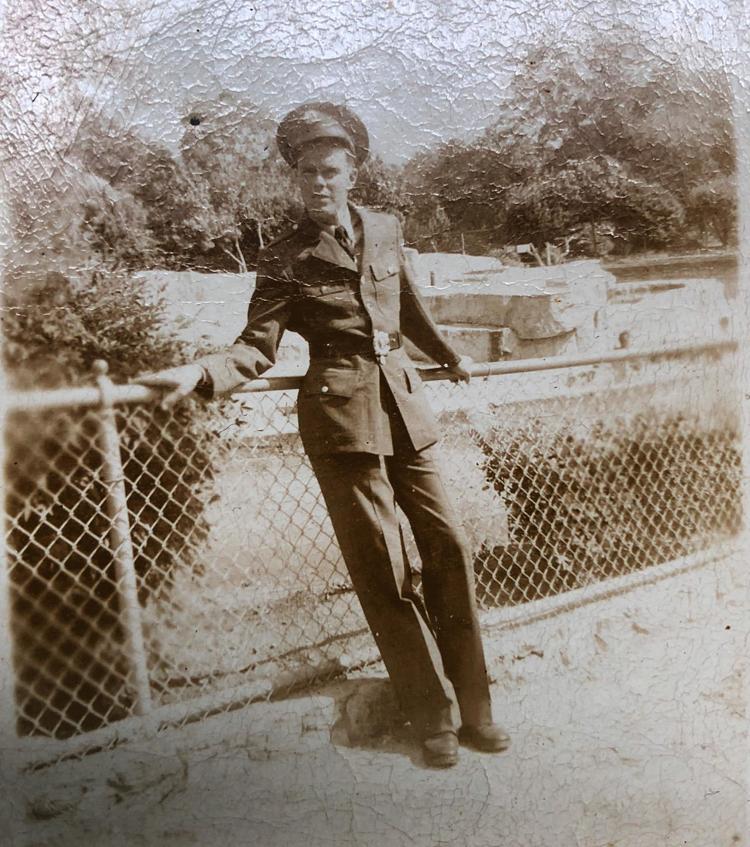 HEFLIN — DeeAnne Lee isn't sure when her house was built. Early 1900s is her best guess, but it may be older than that. It's secluded amid the wooded acres of Cleburne County, not far from New Harmony Baptist Church. The Tallapoosa River flows a short hike away.  
Inside, past the kitchen, sunlight from a living room window lands on a wooden display case. A pane of glass protects what's inside.
The case is part of Lee's family, a physical constant. For the longest time it sat in her dad's house. "I don't ever remember it not being there," she says. But he died a few years back, her mom followed, and now she's the keeper of this heirloom memorial to her uncle, J.C. Blanton, one of the first U.S. soldiers to die on Normandy's Omaha Beach on D-Day.
In truth, this could be a story about journalistic serendipity, as insipid as that would be. All that matters is that I spent three days last week searching for Blanton relatives who could tell his story on D-Day's 75th anniversary, and I struck out. The story I wrote for The Star was based on Blanton's paper trail — military records, newspaper clippings, even a few hits on Ancestry.com. Interesting, but nothing spectacular.
Then Lee emailed me.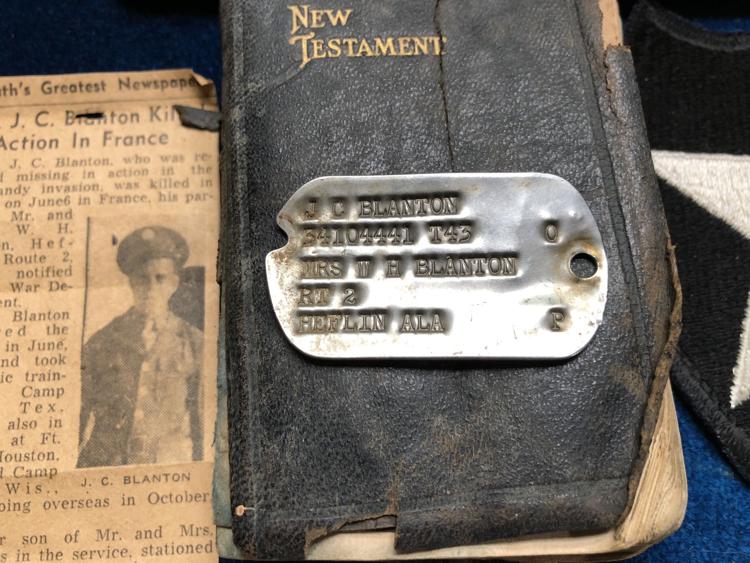 She had J.C.'s stuff — his medals, his Bible, the Western Union telegrams announcing his death, his dog tag, even a handwritten letter he mailed to his mom a few months before he died. The tactile remnants of this Alabama soldier's D-Day story sat in a display case in the same Cleburne County farmhouse his mother lived in during the war.
If only I'd found DeeAnne Lee, or if only she'd found me, last week. But I'll settle for serendipity.
Like most memories of America's dwindling number of World War II veterans, J.C.'s story is a bit cloudy, even for his family. He's been dead nearly eight decades. He never married or had children. His generation is largely gone. Today's generation — Lee's — knows him through family tales, the display case in her home and his grave in Cedar Creek Cemetery, which the Lees take care of each year on the fourth Sunday in May, Decoration Day.
"All I know" about J.C., Lee says, "is from hearing my dad talking about it."
And from what's inside the display case.
J.C. earned two Purple Hearts. Lee has them. J.C. earned two Bronze Stars. She has them. He earned four other medals. She has them, too.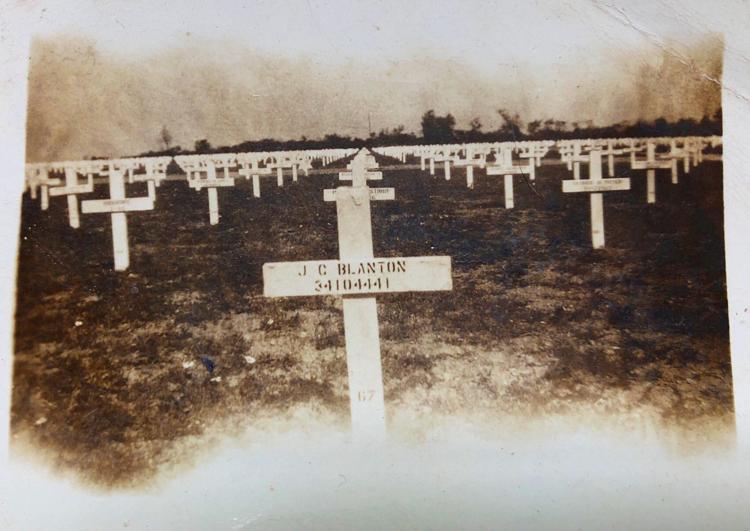 Below them in the case sit the tattered New Testament J.C. carried during the war, a newspaper clipping about his death, one of his dog tags and a uniform patch — a Native American chief inside a white star displayed on a black crest — of the 2nd Infantry Division.
There are three black-and-white pictures. One of J.C. in uniform. One of his first grave in the American St. Laurent Cemetery in France. And one of his flag-draped casket taken in the same living room more than 70 years prior. There's also a photo of another Cleburne County soldier, Sgt. Hamp Pilcher, who parachuted into France with the 82nd Airborne and was killed June 22, 1944. He's buried in Normandy American Cemetery in Colleville-sur-Mer, France.
Pilcher's wife was J.C.'s sister, Nan Blanton.
And then, the letters.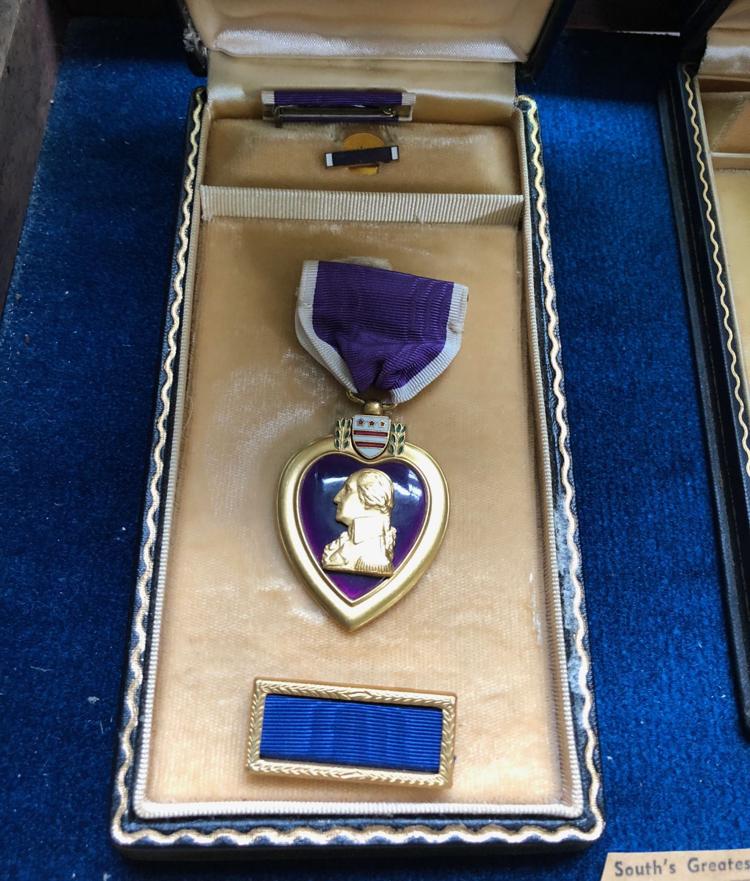 On a Wednesday night in September 1943, J.C. wrote to his mother, Jennie Mae Blanton, while his unit was training in Oregon. In blue ink and attractive cursive, J.C. penned a three-page missive.
Dear mother, it began.
"Received your letter the other day and thought I would write you a few lines, but don't know very much to write except I am getting along O.K. and hope the same there ... You will know what I mean by this, the time has come for something to happen, so do not worry and I will write to you as often as I can."
A classic Southern porch greets visitors to DeeAnne Lee's home. It's on that porch, Blanton family lore says, that J.C.'s mother received the telegrams telling her that her son had died on D-Day.
Those telegrams, neatly folded, are in the Lees' display case.
"All this stuff, this first-hand information, is about to be gone," Lee says. "It drives me insane because you don't realize all of what you want to know until your parents are gone, and then you can't ask them anymore.
"What I do know I heard first-hand. But for these upcoming generations, it's forever gone. We try to soak it up now."