Quintard Mall has been birthed, praised, nearly sold (at least once), renovated once, expanded over Snow Creek, renovated a second time, bothered by a flood plain and PCB-tainted dirt, sold (for real) and now is being renovated for a third time. Or is it being reimagined? It is either The Mall That Can't Be Killed or the unluckiest mall in Alabama. 
When it opened, it featured just 16 stores.
Seven years later, in the red-white-and-blue summer of 1976, its ad campaign used this slogan: "The Beginning of a New Era. The Event That Changed OXFORD Into This Area's Shopping Center." Truth, that.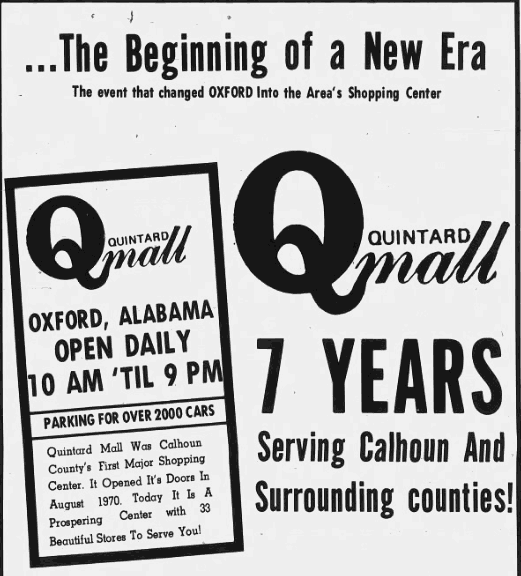 When mall owners renovated the place in 1985, they ran ads in The Star lauding a "spacious mall atrium" featuring "the latest decorative colors" and "tropical plants," because every Eighties mall needed interior decorating straight out of "Miami Vice." "Come and see why we think you're going to love the change … We've Got It All! The New Quintard Mall!"
The night before The New Quintard Mall opened in 2000 — which was newer than the "new" Quintard Mall of '85 and the "new" Quintard Mall of '70 — VIPs enjoyed an invitation-only tour of the place and its 31 new stores, all designed to keep people from driving to Douglasville, Birmingham, Atlanta or, perish the thought, Gadsden.
And yet, here we go again.
There's another "new" Quintard Mall on the way. It'll be the fourth, I think. Oxford is in for $16.5 million over 25 years to help pay for renovation costs — a clear sign that City Hall wants the mall to survive as a mall, one way or another, and not as a vacant failure or something entirely different. (Think: professional or medical offices; car dealership; megachurch.)  
The northern wing that held Sears is being excised like an unsightly skin tag on the mall's neck. Instead of blowing the place up and starting anew, the new owner, Georgia-based Hull Property Group, has grand plans: improved entrances, interior renovations, a stronger collection of tenants and outward-facing stores that will mimic the style of Oxford Exchange. On Tuesday, the mall's interior looked like a pint-sized tornado had blown out the ceiling tiles. A few wires and cables dangled from above. Shoppers didn't seem too bothered. 
When I went to pick up one of those cookie cakes for my daughter's birthday, a worker on a scissor lift was doing his thing overhead — my head, that is. I briefly wondered if I should have worn a hard hat. 
"The key here," John Mulherin, the company's vice president of government relations, has told The Star, "is the transformation of the property. All of these things help transform the way it looks and the way it feels."
I'll rewrite that, slightly.
This transformation feels like a thumb stuck in the dike of inevitability.
In fairness, though, give Hull its due. That company's track record is darned impressive, and if Quintard Mall has a viable and profitable future, Hull is its likely savior. But Oxford's desire to prop up a legacy retail development born out of 1960s-era Anniston suburbanization and retain a large chunk of that sales-tax revenue is also a missed opportunity to reimagine what may be the most important parcel of real estate in the city.
American consumers have spoken; indoor malls are — how to put this — unstimulating. They remain popular in specific markets, but outward-facing retail developments that offer upscale shops, easy access and food and entertainment options are now the preference. Oxford Exchange is Calhoun County's Summit. There's a reason its parking lots are bloated and its restaurant row is inching eastward. I haven't tried Five Guys yet, but I will.
Still, there is grimness. Vacancies at U.S. indoor malls stood at a seven-year high (9.1 percent) in the third quarter of 2018, the Wall Street Journal recently reported. Chipotle (65), Foot Locker (110), Michael Kors (100), Subway (500) and Starbucks (150) closed hundreds of their indoor mall locations last year, Forbes has written.
Oxford may be "this area's shopping center," but it's not immune from these realities. 
Right or wrong, Oxford is committed to preserving Calhoun County's original large-scale shopping experience as just that — a large-scale shopping experience. Giving up on retail at that corner of Alabama 21 and U.S. 78 isn't an option Oxford is willing to consider. Though that dike of inevitability, should it ever break, may make the decision for the city's decision-makers. 
Hull's magic wand will either lather more lipstick on an aging face or morph a spiritless, antiquated mall into legitimate competition for Oxford Exchange and places beyond. Let's hope it's the latter. After this, there may be no more opportunities to unveil another "new" Quintard Mall.
Email: ptutor@annistonstar.com