Phillip Tutor: Anniston's challenges and its new city manager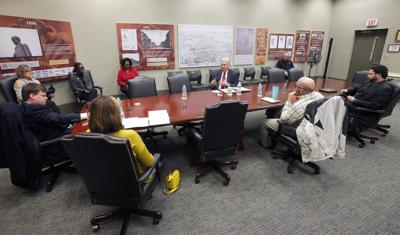 You never know what Anniston's first-timers are going to think. Will they see the city's beauty or its vacant buildings? Will they consider McClellan unique or an albatross? Will they embrace or loathe the oddities, that Anniston's airport is in Oxford and Anniston's Army depot is in Bynum?
Let's ask Jay Johnson, the new city manager.
"You drive down Quintard Avenue," Johnson said Thursday morning, "with its landscaped boulevards, its downtown buildings, Anniston presents itself as a much larger community."
Sure enough, since Anniston used to be a much larger community. Twenty-first century Anniston is smaller in population, less fiscally sound, less economically dominant within Calhoun County and no longer home to a few thousand Army personnel. Empirically, Anniston no longer compares to Dothan or Decatur or Florence. We're Alabama cousins to Selma and Albertville and Athens.
In time, Johnson will grasp those realities. He has no choice given that the City Council, by a 4-1 vote, selected him Tuesday to replace Kent Davis. With a house to sell in Shelbyville, Tenn., and the hassle of moving south, Johnson's first day on Gurnee Avenue won't arrive until March.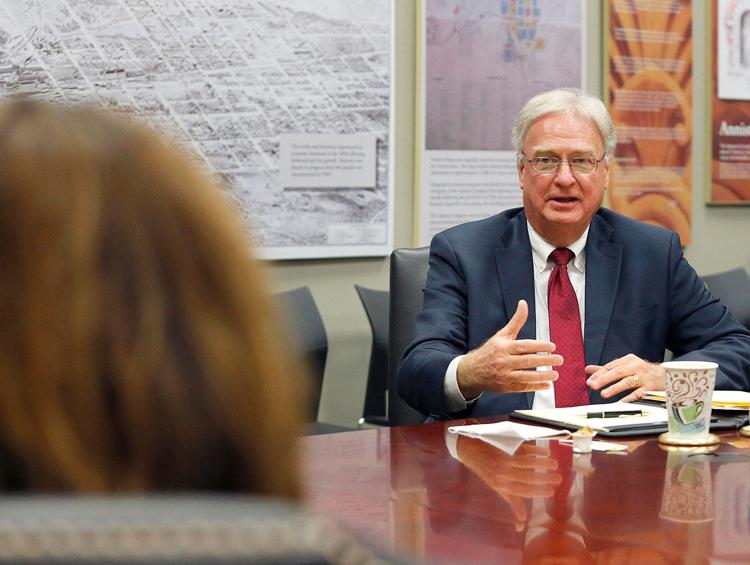 Until then, he's a future Annistonian with the keys to the city's most powerful unelected office and a first-time visitor's limited knowledge of the place. If you asked him how to get from City Hall to the Calhoun County Courthouse, he'd likely have no idea.
I'll give him a hint: It's across the street.
"While I recognize there are a number of challenges and issues in Anniston," Johnson said, "what they are doing with the city of that size and budget of that size (is impressive). When you look at the museums, the meeting center, the number of community centers, Anniston is doing a lot. There are a number of very positive points to the city. I want to be a part of that."
Ah, yes. Challenges. Anniston's got 'em. One of its most repugnant and most damaging — a dearth of political decorum — cropped up in Tuesday night's council meeting, as if on cue. Plus, it was altogether predictable.
The council awarded a contract for work on the National Freedom Riders Park project to Anniston's Christian & Associates Architects. David Christian sits on the Planning Commission board. Councilman Ben Little objected. "If an individual wants to make some money, get the heck off the board," he said. City Attorney Bruce Downey cited an advisory opinion from the Alabama attorney general stating that a Planning Commission member wasn't an officer of the city, which allowed Christian's firm to legally receive the contract.
And, then, this happened.
Little yelled.
"You're not hiring yourself — you're hired by this council."
Downey, not wanting to be insulted, left.
Little yelled.
"If you can't stand the heat, get out the kitchen."
Welcome to the job, Jay Johnson. You're gonna have fun.
Granted, the challenges Johnson mentioned centered on city finances, economic development and the stark divide between Anniston's well-to-do and those living near the poverty line. Anyone here for more than a few hours can see it, including Johnson. But he is stepping into a six-figure job that sits amid the chaos that often erupts when the council convenes — a chaos almost entirely of Little's making. And never forget that Little turned one of Johnson's predecessors, Brian Johnson (no relation), into a political target, campaigning on a platform of ridding Anniston of its city manager, a crass tactic that reeked of racial overtones.
Jay Johnson didn't attend Tuesday's meeting. But he heard about it, and I got the impression he wasn't altogether shocked by what went down.
"It's much more common today," he said of such local-level political animus. Anniston, he agreed, by no means owns a monopoly on dysfunction. "When I started in city management, the councils were more focused on city services and the budget and maybe not so much on discussions of the broader issues. It was very different."
Being city manager in Anniston equates to captaining a fishing ship in the North Atlantic. (Think the Andrea Gail in The Perfect Storm.) You have to weather the gales, some rougher than others, some inflicted from within. You know they're coming. They may even catch you by surprise or make no sense.
Come March, that's what Johnson faces.
"You have to listen," he said. "You have to communicate. It is on the city manager to make sure everyone understands. That doesn't mean that everyone will agree with everything I do. I understand that going in. I can only demonstrate that I will be open, I will be fair and I will listen. At the end of the day, somebody has to make a decision."
In Anniston, that somebody may get yelled at, too.