Unlike the Alabama Shakespeare Festival, which left Anniston, and Fort McClellan, which left Anniston, the Knox Concert Series is different. It's not leaving Anniston for Montgomery or Missouri. It's not even heading south to Oxford, where rumor has it that everything that city touches turns to gold.
The Knox is merely ending its century-long run in 2020 as Anniston's cornerstone cultural event. It has run its course. In historical terms, it has no local peer. 
But don't blame Oxford.
That's the default, right? That's always the default. Oxford is the elephant in Anniston's room, the prosperous neighbor lurking over the backyard fence who eyes your best stuff. What's Oxford going to take next? Regional Medical Center? Councilman Ben Little? The World's Largest Office Chair? The Freedom Riders National Monument? 
Even Oxford's mistakes seem to work out. 
Remember the costly delay fees and historical missteps that plagued the opening of Choccolocco Park? We know how that turned out. Compare that to Anniston's efforts to build a downtown hotel on Noble Street. Today, Oxford owns one of the Southeast's swankiest athletic complexes. Anniston owns a big hole in the ground.
This isn't Oxford's fault — but let's be honest. The Oxford Performing Arts Center immediately became Calhoun County's leading concert venue when it opened in 2013, giving Knox and its longtime home at Anniston High School's auditorium deathly competition, intended or not. It rocks, and hard. When The Star asked John Longshore, OPAC's director, about the end of The Knox, he verbally frowned.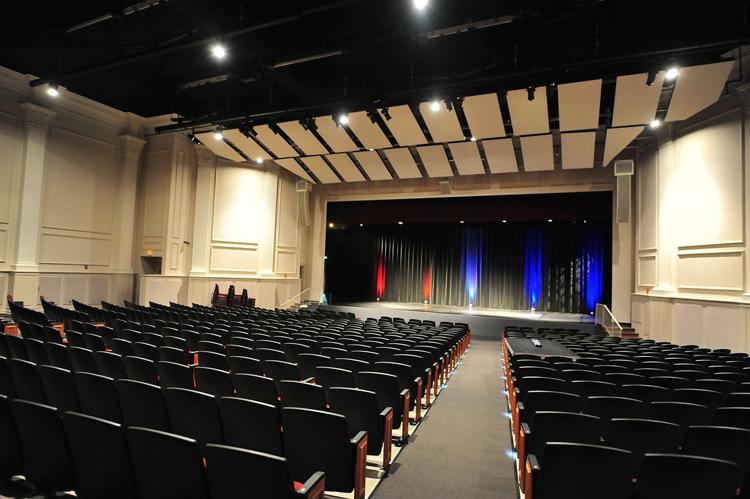 "It's certainly not something we're celebrating," he said. "We had no intention of competing with them. I've always felt that the more art you're bringing, the better."
True that. Calhoun County needs more diversions, not fewer; quality of life matters. But two factors that hastened Knox's demise aren't smeared with Oxford's damning fingerprints: our county's largely stagnant population, particularly Anniston's, and the fast-evolving world of entertainment options in today's America.
I'll also add a third: Anniston's failure to build its version of OPAC — in essence, a strong investment in the Knox's future and the city's ability to bring modest-tier entertainment to Calhoun County. But good Lord, Anniston's hands have been full with a chemical weapons stockpile, PCBs removal and McClellan redevelopment.  
It's not Oxford's fault that the last three decades have torched Anniston. The city's population, now a tad over 20,000, has dropped a third because the Army left for Fort Leonard Wood, its economy has struggled, the rate of violent crime in a few neighborhoods and the city's history of environmental pollution are awful postcards, and recurring political missteps delay, if not stunt, too many viable improvements.
In other words, Oxford may be a thorn in Anniston's side — figuratively, at least — but it's not Oxford's fault that Anniston is Anniston. And, in fairness, it's a credit to Anniston that its cycling community has created one of our state's cycling hotbeds. That doesn't happen without foresight and a bit of monetary and political risk.
What Oxford is responsible for is aggression, its aggression. Whether through good fortune (Interstate 20), strong-armed guidance (former Mayor Leon Smith) or smart planning, or maybe a mixture of the three, Oxford is what Anniston would love to be: an imperfect city with ample money, options and a future not often derailed by council demagoguery.  
Oxford has Anniston's airport, kind of. 
Oxford took Anniston's big-box stores in the early 1970s.
Oxford took advantage of Anniston's frustrating inability to lure Publix, rebuild Lenlock and Noble Street and kick McClellan into overdrive, and it now fills its coffers with sales taxes from Oxford Exchange.
 How different would Anniston be today if I-20 rolled a few miles to the north? Or if Smith had never been elected in Oxford? Or if the Pentagon hadn't shuttered Fort McClellan? Or if Anniston's 2008 election could be redone? Or if Monsanto hadn't fouled west Anniston's soil? 
Put bluntly, it doesn't matter. What's done is done, or not done in some cases. A thought: do longtime Jacksonville residents still wonder how different their city would be had the Calhoun County Courthouse not moved to Anniston? Granted, it's a fascinating thought — modern-day Jacksonville with a four-year university, the county courthouse and an attendant roster of attorneys and legal offices. The restaurants on Jacksonville's square could print lunchtime money.
Cry for the ending of the Knox Concert Series, if you're so inclined. But cry for the right reasons. Enjoy what's here. Life in Calhoun County moves on.