Phillip Tutor: A public nuisance, sitting on his horse in Memphis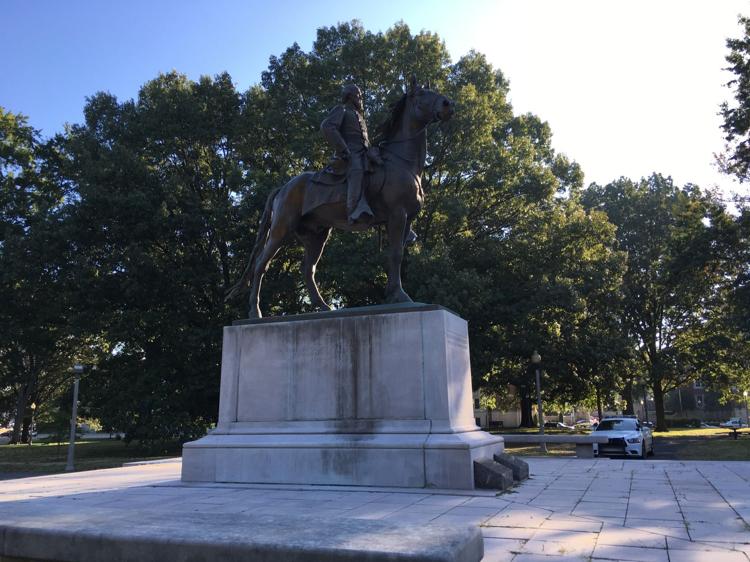 MEMPHIS — Imagine, if you can, a Paris-made statue to an antebellum slave-trader installed prominently a century ago on Quintard Avenue and the Anniston Police Department today being forced to protect it, 24/7, from would-be vandals.
Yeah, me, neither.
But up here in Memphis, a block from where Elvis Presley and Carl Perkins recorded at Sun Studio, the epicenter of America's modern argument about Confederate imagery rests in an eight-acre public park adjacent to the University of Tennessee Health Science Center. City Hall wants to rid the park of its CSA remnants, which includes not only the imposing statue of Confederate cavalry hero Nathan Bedford Forrest but also the bones of Forrest and his wife, Mary Ann.
Like Southern weddings, everything about this melodrama is complicated. Memphis, as is Anniston, is a majority-black city. Before the Civil War, Forrest made a fortune selling slaves from a storefront — a "Negro Mart" — on Adams Avenue in Memphis. During the war, the gifted cavalry leader massacred black Union soldiers at Fort Pillow. After the war, he became the first grand wizard of the Ku Klux Klan. And in his will, he requested burial in Memphis' Elmwood Cemetery, where he and his wife were initially laid to rest.
In 1904, overcome by Lost Cause fever, Memphis' former Confederates disinterred the Forrests' remains and moved them to Forrest Park. A year later, they entombed them beneath the statue. So much for last wishes.
In death, Forrest remained a revered son of the South — the white South, that is — which made the statue's unveiling news throughout the former Confederacy. In Anniston, The Daily Hot Blast announced it on the front page. In an editorial, the newspaper wrote that "in honoring (Forrest), Memphis honors herself."
Put another way, it admired a segregated, white-supremacist culture that exemplified the utter failure of Southern heritage defenders. Both then and today, the Forrest statue didn't glorify that city and its people. It honored only its white residents and a culture based on racial oppression, government-sanctioned inequality and vigilante violence. It's a ghastly legacy to uphold.
"I am pretty sure," Beverly G. Bond, a history professor at the University of Memphis, has told The New York Times, that "nobody ever took a vote among African Americans here in 1905 asking, 'Do you want this statue of Nathan Bedford Forrest in this park?'"
Like Birmingham and Montgomery, Memphis' past is intertwined with the city's often-bloody struggles over the civil rights of black Americans, the 1968 assassination of Martin Luther King Jr. chief among them. Only now, during our national conversation about the optics of Confederate memorials in public spaces, have progressive Memphians inched closer to ridding their city of this civic blight.
What's more, city officials want the Forrest statue removed before next April's 50th anniversary of King's death.
But it's complicated, remember.
In 2013, City Hall removed the Confederate-themed names from three Memphis parks — a move the Sons of Confederate Veterans is fighting (and thus far losing) in the Tennessee Court of Appeals. Forrest Park is now Health Sciences Park, a clunky and absolutely unoffensive name. The Tennessee Historical Commission this month denied the city's request for a waiver for the state's preservation law, which could keep the Forrest statue and remains in place pending an appeal to a Tennessee court. Meanwhile, the City Council last week declared the Forrest statue and a nearby figure of Confederate president Jefferson Davis officially as "public nuisances" and ordered Mayor Jim Strickland to plan for their removal "without delay" because, in lawmakers' opinion, they don't need a historical commission's approval to rid the city of public nuisances.
"If we don't get the answer we're looking for from the judge, we're ready to take action," Councilman Berlin Boyd told The Commercial Appeal newspaper.
Oh, and the police?
Initially, at least, August's fatal violence in Charlottesville, Va., was spurred by plans to remove a Robert E. Lee statue from a city park. Last spring in New Orleans, four Confederate-themed statues were removed from city parks — including one dismantled at night under guard by police snipers. And in Birmingham, Mayor William Bell ordered Linn Park's Confederate statue covered to keep it from becoming a target for protests and Charlottesville-like violence.
The morning I visited Forrest's statue, two Memphis police cruisers, lights flashing, guarded entrances to the park. One of the officers was black — a black man protecting the grave and statue of a white slave-trader, KKK leader and Confederate cavalryman.
A temporary sign warned visitors that defacing cemetery property is a felony in Tennessee and asked them to "please be respectful" of this "hallowed, consecrated ground."
Equal protection under the law, I suppose.