Phillip Tutor: A Christmas kitten, just a little early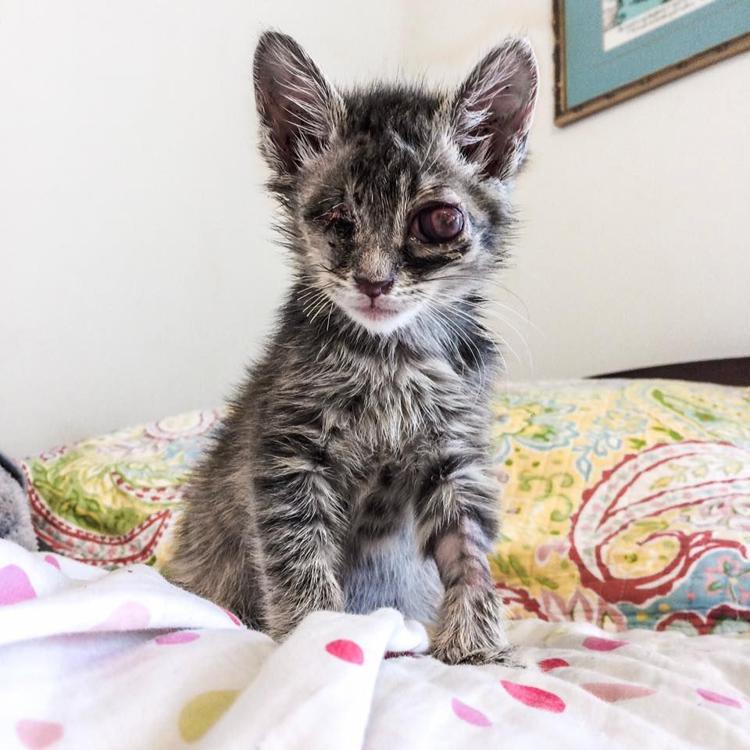 Just when you think humanity is awful, the president is a global embarrassment, our state nearly elected a creepy theocrat to the U.S. Senate and every man on the planet seems to be a sexual predator, along comes a Christmas kitten who renders all that momentarily forgettable.
Meet Willie. His full name is Willie Nelson, but that's beside the point.
Willie lives in DeArmanville.
Willie is only a few weeks old.
Willie is blind. Damnable feline herpes. A vet took out his infected right eyeball. His sickly left eyeball lives, but only in spirit. Shadows and light are all Willie sees.
When rescued in November from the middle of U.S. 78 in Oxford, Willie weighed about half a pound and his eyes were crusted shut. He was a dead kitten walking, kind of.
But fate intervened — for a DeArmanville couple, Bran Strickland and Lauren Castor, and for a kitten who would change their lives.
It was around 11 that Saturday morning. Strickland was about to go to work. As he drove, something caught his eye.
"I said, 'Look at that rat going across the road.' He looked bigger than a mouse and smaller than a rat, really. As I got closer, I said, 'My God, that's a kitten.' He looked like he was drunk because he was stumbling and he could barely walk."
Other drivers sped past the kitten, oblivious or perhaps uncaring.
Strickland, though, stopped amid the traffic. Because that's just what you do. Humanity and all.
"Once I realized it was a kitten in the middle of the road, I just threw on my flashers and jumped out," he said. "I didn't want to see it get hit."
And then it happened.
"Immediately, it was like that cat clung to me," Strickland said. "There was no fear. I just picked him up and he went straight for my beard. It just started purring. He never meowed or screamed or anything. He just started purring."
As usual with any story worth retelling, there's more to this tale than just a cat and his savior. (Open disclosure: I've known Strickland for years since his days working at The Star.)
Strickland is an unrepentant dog guy. "I've never been a cat person," he said. And KiAnne, his dog since way back when, died this summer after a good life of 14 years. Shortly after, Strickland and Castor got a cat they named McKenna, who's fine and all, but it wasn't a dog, it wasn't the same.
So Strickland started putting away some cash, waiting for his heart to heal before giving it to another dog. By December, the plan went, the mourning would slow and he'd welcome a Christmas puppy, a gift like no other.
Then came Willie, malnourished, underweight, abandoned and deathly sick.
Instead of paying for a new dog, Strickland paid Willie's vet bills.
"There's something about this new cat," he said. "Maybe it was the whole way we found him. We bonded immediately. I just can't imagine the people who drove by that cat. That still resonates with me more than anything."
Truth be told, it's amazing that Willie is alive.
He weighed six-tenths of a pound at his first vet visit — and that was after a weekend of feeding right after he was scooped off the road. His eyes were completely crusted over. Strickland thought he was no more than two weeks old, maybe too young to open his eyes. He was "sneezing, he had snot running out his nose … He was so little and he was so sick," Castor said.
The vet set Willie up with medication to fight the infection that had reached his eyes. A week went by. But "one of the eyes started going bad early," Castor said. "It was this big ulcer, this horrible ulcer, and it just started filling with stuff. We knew something was wrong," but Willie's size made him a terrible candidate to survive anesthesia for surgery. So they waited, kept him fed and hoped.
Two weeks later, the right eye started bleeding overnight; the next morning it began "gushing" blood, Castor said. The eye was beyond repair and the socket was infected. The vet had no choice but to remove Willie's eye and try to save the left one, if it wasn't too late.
Today, Willie's gained weight — he's still tiny — and has hung on to his left eye, limited as it is. He's survived abandonment, a U.S. highway, feline herpes and other maladies, eye surgery and high doses of medication. But he's found a home.
On Monday, this Christmas kitten will enjoy his first holiday. His new family will, too.
"He is our Christmas present, we just didn't know it," Strickland said. "We just got our Christmas present early."