Jason Jack played his final football game for Oxford High School on Dec. 1, 1989. Then he was the Yellow Jackets' starting quarterback. Now he's a plastic surgeon in Birmingham.
Does he remember that game's score?
"Oh, yeah," he says, "37-35, we beat Smiths Station." For the state championship, he adds.
Chris Hayes played middle linebacker at Wellborn High School. His father played football at Wellborn. His uncles are Wellborn men. Until this year, the Panthers hadn't made the fourth round of the state playoffs since 1995 — the year after Hayes graduated.
Now Hayes is Wellborn's principal.
"The history of Wellborn and the traditions of Wellborn have always been important and they continue to remain important," Hayes says, "and that's speaking as a graduate and surrounded by folks who have kept their kids there."
Johnny Smith didn't play football at Jacksonville High School, but he's intimate with its surroundings. He graduated from Jacksonville State. He taught for more than three decades at Jacksonville State. He's been Jacksonville's mayor almost as long as this convocation of Golden Eagles has been alive. 
He's not sure what to make of Friday night.
"It's amazing," Smith says. "I can't remember it ever happening before."
Let's be honest. It's easy to get caught up in this Friday Night Lights aura of Calhoun County, but it's not possible to overstate the day's enormity. It's about football, but it's not only about football. Is it bigger than when Anniston and Oxford both won state titles on the same night in '89? Good question.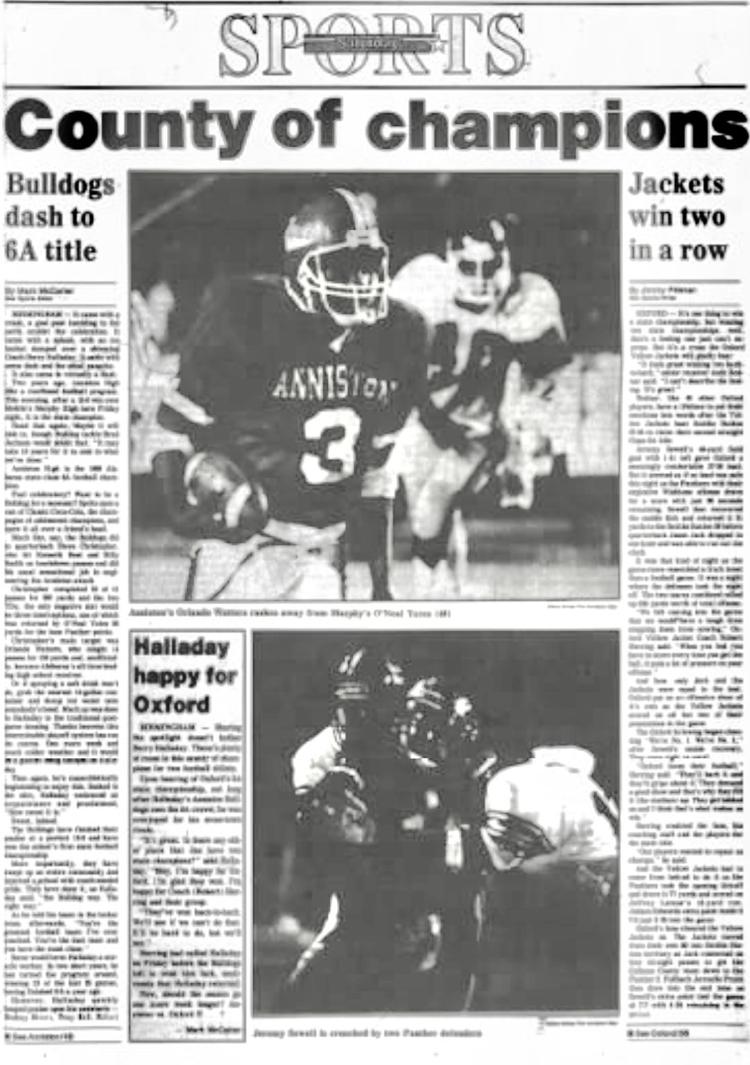 Five of Calhoun County's 11 public high schools are playing in this year's semifinals. All five are playing here in the county — Anniston at Jacksonville, Wellborn at Piedmont and Oxford at home against Pinson Valley, the lone interloper.
The individual storylines are fantastic. Piedmont's football factory nearing another championship. Jacksonville, perennially a fall disappointment, two victories away from its first title. Wellborn playing like its bruising teams of old. Oxford, without a state title since 1993, may win another under first-year coach Keith Etheredge.
And then, Anniston.
If you're into quirkiness, there's this. Back in 1899, upstart Anniston took the county courthouse from Jacksonville following a disputed election and a state Supreme Court ruling. If they were alive today, that era's Jacksonvillians would convince you Anniston rigged the election and stole the courthouse. The animosity was real.
If you're into current events, there's the D-word — deannexation — that's infected Anniston this fall. A local nonprofit, Forward 4 All, that's seeking legislative help believes Anniston's best, if not last, hope for revitalization is to deannex the city's affluent, mostly white neighborhoods, seek incorporation as a separate city (since Oxford didn't want to play) and perhaps force a dissolving of beleaguered Anniston City Schools. 
But consider the larger picture that resonates along the county's spine.
Calhoun County isn't Alabama's favorite child. Part of that is our fault. (Raise your hand, Anniston.) But it's not our fault the Army left 20 years ago, or that Monsanto polluted our land, or that the Army stored chemical weapons in Bynum, or that the state Legislature didn't kick-start McClellan redevelopment with turn-of-the-century seed money. 
By and large, Calhoun County's successes are home grown, not handouts from Montgomery. They come in fits and starts, small victories in economic development and job creation that inch the needle forward. And amid all are the county's cities and towns and communities that sometimes fight and oftentimes compete and tell generational tales of who's better, you or me. Rarely are those arguments completely settled.
Sometimes it's politics. Or business. Or, of course, football.
In Jack's day, back before he played briefly for the Alabama Crimson Tide, Oxford faced Anniston — that no longer happens, sadly — but its true rival was Wellborn, feisty teams separated by only 7 miles. He's convinced of that. 
"We just knew that that was the team we had to be ready for," he says. The players weren't strangers, either. Little League games and backyard tussles conjoined them, boys whose rivalries weren't separated by school zones or city limits. "When we got to high school," he says, "we knew it would be a dogfight" against the county's other schools.
I asked Hayes, Wellborn's linebacker-turned-principal, about Friday for Wellborn. Roughly a third of his students, he said, were involved somehow — as players, cheerleaders or band members, the epitome of Friday Night Lights. He then thought of Calhoun County.
"I think that over the years our schools have really fed off each other," he says. "We've fed off each other and competed against each other to be the best that we can be, and not just in academics. Now we are seeing some fruition of that in athletics."
Indeed. Five semifinal teams, three semifinal games, one night, one county. 
Twice a month Jack returns to Calhoun County to see patients. His drive takes him past Oxford High, his old stomping grounds. He remembers one trip not long ago when he spied players working out at the stadium and turned to his nurse. "That's where I used to play," he told her.
I'm assuming he smiled.
Email: ptutor@annistonstar.com