H. Brandt Ayers: Trump breaches moral line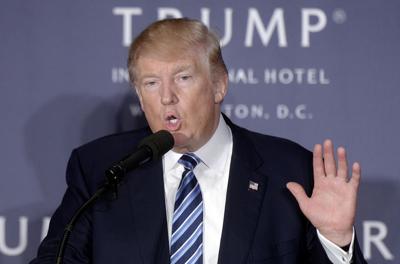 ​In the far southwest corner of the West Wing of the White House is an oval office, the center of our nation's moral authority that has beamed a light of hope and resolution to the rest of the world.
​Sitting in that office today is a 6-foot-4, 270-pound mound of self-idolizing ego at whose center, where a moral core ought to be, is a hollow void.
​Donald Trump abandoned any claim to the moral authority of the presidency when, in a heated press briefing after Charlottesville, he breached a line drawn by the Almighty to separate good from evil.
​With fire in his eyes, his voice trembling with anger, he crossed to the evil side of the line, doubling down in his assertion that there were "some very fine people" among the neo-Nazi, white-supremacist mob with swastika tattoos, waving flags of the Third Reich, shouting Nazi slogans and anti-Jewish epithets, that there was a moral equivalent between them and the townspeople and University of Virginia students protesting against the barbarian invasion.
​He is a deeply wounded man, sitting isolated in his empty, oval shell, abandoned by the people he admired the most, the chief executives of our great corporations, contradicted by the joint chiefs of our armed forces and the leaders of the nation's artistic genius.
​His golden, gilded resorts are being abandoned, too, by business associations and nonprofits such as the Salvation Army and American Red Cross, who cancelled fund-raiser plans because of their desire not to have anything to do with places bearing his name.
For those of us who recognize the enormity of his need for approval, and might be inclined to feel sympathetic for a man so grievously wounded, we must steel ourselves by declaring, "Donald, you brought every bit of this on yourself."
His White House has been at war with itself; he has declared war on his congressional lieutenants and broken the bonds of the western alliances built by great men who fought World War II and built a liberal world order that preserved the general peace from 1945 until today.
His super-egotistical nationalism, "America Uber Alles," has not made our nation great again. It has made America smaller, more isolated, less admired and loved.
His petulant tweet-storms against the smallest critics and random jack-in-the-box policy declarations, shocking his cabinet and the joint chiefs, have made him a caricature president alongside the great men who have occupied that hallowed space: Washington, Jefferson, Lincoln, the two Roosevelts, Truman, Eisenhower, Kennedy, Johnson, Reagan, Clinton, George H.W. Bush and Barack Obama.
Past presidents have soothed and bound the nation together in moments of shock and grief. After the space shuttle Challenger blew up, President Reagan asked parents to lift up their children by teaching them that the badge of courage is not won by the timid but by the bold, and after hundreds of children perished in the Oklahoma City explosion, President Clinton asked parents to remind their children that "the God of comfort is also the God of justice, and justice will be done."
Increasingly, leaders of his own party are speaking out against Trump, including Sens. Bob Corker of Tennessee, ranking leader of the Intelligence Committee, John McCain of Arizona, Lindsey Graham of South Carolina, Marco Rubio of Florida, former Massachusetts governor and presidential nominee Mitt Romney and Sen. Jeff Flake of Arizona, whose just-published book critical of the president declares, "This is not who we are." Presidents George H.W. Bush and George W. Bush and Gov. John Kasich of Ohio have joined the chorus.
In less than one year, Trump has so damaged our standing in the world and so deepened the divisions among our people that he has already shown himself to be unfit for high office.
Prospects that he will somehow in the three remaining years alter lifelong habits of character and personality and behave presidential are not good. It is up to leaders of his party to avoid the long agony of impeachment to guarantee — at the very least — he will not seek re-election.
H. Brandt Ayers is chairman of Consolidated Publishing Co.