Bob Davis: Trump's press attacks heard around the world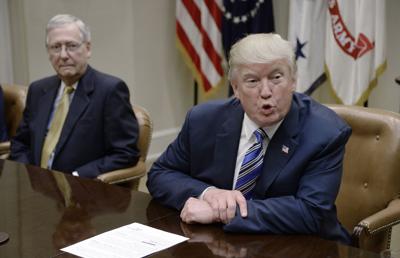 WASHINGTON — A pair of international journalists delivered a stark message to U.S. editors earlier this month: President Donald Trump's hostile words towards the news media give license to totalitarian leaders around the globe.
These tyrants have little incentive to respect a free press when the president of the United States rails against "fake news," threatens the broadcast licenses of outlets that report facts that make him uncomfortable or proposes locking up journalists, said Jordanian journalist Daoud Kuttab and Mahfuz Anam, editor and publisher of Bangladesh's largest English-language newspaper, during the recent ASNE-APME News Leadership Conference in Washington.
"There's nobody in the countries around the world following Washington more than dictators and autocratic leaders," Kuttab, director of Jordan's Community Media Network, said. "The moment they see that the issues of democracy are no longer of priority in the U.S., they feel they can … get away with a lot more than what they normally get away with."
Anam agreed, "We're all used to being attacked by governments from different parts of the world, but we're not used to being attacked by the president of the United States. The West actually used to inspire us in other parts of the world. But that sense of moral support is on the decline."
Sigh.
We once more must confront ways in which the 45th president is different from his 44 predecessors.
Earlier this month, a Trump tweet included this line, "With all of the Fake News coming out of NBC and the Networks, at what point is it appropriate to challenge their License? Bad for country!"
First, a clarification: The Federal Communications Commission issues broadcast licenses to local stations, not networks like NBC.
In response to the tweet, the Committee to Protect Journalists, Free Press, Media Law Resource Center, PEN America and Reporters Committee for Freedom of the Press released this statement: "When coming from the leader of the free world, words matter. And if the First Amendment means anything, it's that the government can't censor news because it's critical of the government. The president should be working to uphold the values of the First Amendment, not tearing them down."
Relations between members of the news media and chief executives are historically chilly. President Dwight Eisenhower complained about "sensation-seeking columnists and commentators." Critical coverage of the Vietnam War led President Lyndon Johnson to label editors at The New York Times as "a bunch of commies." Dozens of journalists made President Richard Nixon's enemies list. President Bill Clinton said he couldn't get "one damn bit of credit from the knee-jerk liberal press."
These presidents and others were surely unhappy with their coverage, but they still managed to speak of the virtue of the First Amendment's right to a free press. Those presidents acted as salesmen for a free society, including a vigorous and aggressive press.
Bob Davis is editor and publisher of The Anniston Star. Contact him at 256-235-3540 or bdavis@annistonstar.com. Twitter: EditorBobDavis