Bob Davis: The 'how' of rebuilding post-Harvey Houston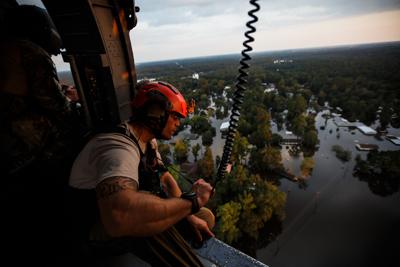 Six months after Katrina killed 1,800 people, left tens of thousands homeless and destroyed $150 million worth of property, residents near ground zero of the Category 5 hurricane were reborn smart-growthers.
During a visit by journalists from across the nation, residents in the Mississippi towns of Biloxi, Waveland and Pass Christian spoke about the how of their rebuilding efforts. Where an anything-goes culture once dominated in Mississippi communities, there was now a caution sounded to be aware of the details of residential and commercial development.
For one thing, a policymaker told me, Mississippi should better control structures built along its coastline. It was a mistake, he said, to let chain restaurants and their accompanying garish signage set up shop right near the water's edge.
Forcing casinos to float just off the shore of the Mississippi coast was another error in judgment, residents said. That's because Katrina's giant waves — some as high as 35 feet — picked up those barges supporting the casinos and used them as battering rams on inland structures.
Some of these newfound smart-growth advocates saw value in lifting homes a dozen or so feet off the ground to protect those structures from future floods.
While the rebuilding effort wasn't perfect, officials believe it was better than what had been there before Katrina. "The recovery along the Mississippi Gulf Coast is remarkable," Mississippi Gov. Phil Bryant told The Washington Post in 2015. "Homes and public structures are rebuilt to more disaster-resistant standards, and businesses are open and thriving."
At some future date, similar smart-growth sentiments will likely emerge in Houston and other parts of coastal Texas smashed by Hurricane Harvey late last month. Houston and its surrounding metropolitan area are famous for a lack of design standards that would protect people and structures from flooding.
The flood-prone region has been reluctant to more heavily regulate development. Three times since 1948, Houston voters have rejected stringent land-use regulations; the latest was in 1993.
"We had no zoning," Rice University civil and environmental engineering professor Phil Bedient told The New York Times last week. "It was like the Wild West, and you just built housing subdivision after housing subdivision up close to the bayous, up close to the channels."
The Wild West description was echoed by Sam Brody, director of Texas A&M's Center for Texas Beaches and Shores, in The Washington Post. "The stormwater system has never been designed for anything much stronger than a heavy afternoon thunderstorm."
How wild? A 2015 Houston Chronicle story found that local developers failed to comply with Army Corps of Engineers water-management regulations about half the time. From 1996 until 2015, "Harris County, for one, has lost nearly 13,000 acres of wetlands, or 13 percent, while adding 1.6 million residents, according to federal data," the newspaper reported.
The spirit of Texans has been on bold display over the past 10 days. Neighbors have looked after neighbors in the midst of a once-in-a-1,000-year flood. There's no doubt these courageous and hard-driving people will rebuild. The question is how they will rebuild.
Bob Davis is editor and publisher of The Anniston Star. Contact him at 256-235-3540 or bdavis@annistonstar.com. Twitter: EditorBobDavis