Bob Davis: Not enough on their plate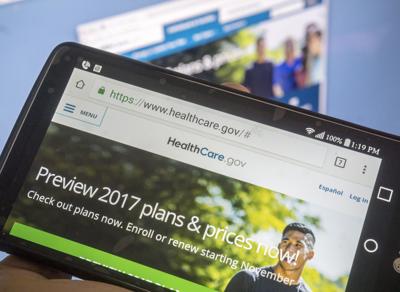 In a big-picture way, Congress last week moved in the wrong direction on health-care policies. When the debate should be focused on long-term fixes regarding health care, Washington's power structure narrowly drilled down into the near term.
Not that lawmakers were in the wrong. About 18 million low-income Americans are insured through Obamacare, which helps pay for some of the costs of their premiums. Without action from Congress and the president to assist with rising premiums by the end of this month, those 18 million Americans will likely suffer.
"We can do it here, our goal is a small step but so many Americans will be hurt if we fail, and the blame will be on every one of us if we don't act," Sen. Lamar Alexander, R-Tennessee, said Wednesday. He is chairman of the Senate Health, Education, Labor & Pensions (HELP) Committee, which met last week to consider short-term solutions required in the wake of Republicans' unsuccessful effort to repeal Obamacare in July.
If you or your loved ones are among those 18 million, this is a hopeful sign. If, however, you believe health-care policy should primarily be focused on (1.) treating those who are (or soon will become) ill and (2.) encouraging lifestyle choices that keep more people healthy, then we are off base.
The current law — Obamacare — allows insurers to charge smokers higher premiums. Companies that provide health insurance to employees can create wellness incentives that offer workers discounts on their premiums for losing weight or giving up cigarettes.
Not bad, but more could be done when it comes to preventing the ailments that plague too many Americans — diabetes, heart disease, respiratory diseases and cancer.
The federal government's Office of Disease Prevention and Health Promotion explains why it matters, "About half of all American adults — 117 million individuals — have one or more preventable chronic diseases, many of which are related to poor quality eating patterns and physical inactivity. These include cardiovascular disease, high blood pressure, type 2 diabetes, some cancers, and poor bone health."
The agency notes:
-- About 66 percent of adults and 33 percent of children are overweight or obese.
-- Treating these conditions is expensive. A 2008 study calculated "medical costs associated with obesity" came to $147 billion.
-- In 2012, diabetes spending totaled $245 billion, including an estimated $69 billion because of lost productivity in the workplace.
A new global study on diet and health — the Prospective Urban Rural Epidemiology (PURE) — presented last week adds some clarity to those disturbing statistics. The habits of 135,000 people in 18 nations were studied over seven years.
The details of the report will be sifted through for months, but James Hamblin neatly summed up the big takeaway in The Atlantic magazine: "The practically important findings were that the healthiest people in the world had diets that are full of fruits, beans, seeds, vegetables, and whole grains, and low in refined carbohydrates and sugar."
In other words, many Americans need to put down the fast food and sugary drinks. Or, as author Michael Pollan famously put it, "Eat food. Not too much. Mostly plants."
For the health of its citizens and the vitality of its economy, the federal government can and should play a bigger role here, one that encourages healthy lifestyles that will lower the costs of U.S. health care. The signs thus far are that it isn't willing to.
Bob Davis is editor and publisher of The Anniston Star. Contact him at 256-235-3540 or bdavis@annistonstar.com. Twitter: EditorBobDavis