Bob Davis: Mayor Bell and that Birmingham monument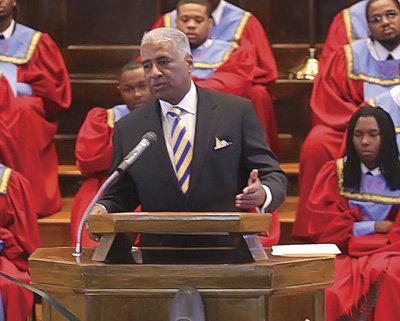 In reaction to last weekend's violence in Charlottesville, Va., the mayor of Birmingham ordered city staff on Tuesday to veil a Confederate monument on public property.
On Wednesday, Alabama's attorney general sued the mayor and his city for covering up the Soldiers and Sailors Monument in Birmingham's Linn Park.
Attorney General Steve Marshall said the city was in violation of the 2017 Alabama Memorial Preservation Act.
Mayor William Bell told AL.com, "We look forward to the court system clarifying the rights and power of a municipality to control its parks absent state intervention."
Mayor Bell shouldn't get his hopes up.
The 1901 Alabama Constitution was made for moments like this. Its authors were looking to establish a new day in Alabama. Reconstruction was over and the powerful in Alabama were ready to tighten their grip on the state. The president of the constitutional convention of 1901, Anniston attorney John B. Knox, made clear that the central aim of this new governing document was to "establish white supremacy."
The new constitution did that by (a.) making it virtually impossible for black Alabamians to register to vote and (b.) removing power from local governments and centralizing it at the state capital.
While black Alabamians eventually had their voting rights guaranteed by federal law and the state's segregationist policies were wiped away, the 1901 Constitution's power grab against cities and counties remains in force.
In many ways, Alabama's governor and 140 state legislators have more control over our cities and counties than the duly elected mayors, council members and county commissioners from those locales. Think about that. In the case of the Birmingham statue, Mayor Bell should face the consequences of his decision. Birmingham voters might reward him or they might punish him. Either way, he should be directly accountable for his policies and actions. They won't because the state of Alabama won't let them.
From local-only taxes to seven-day sales on alcohol to farm-animal disposal to pest control, setting purely local policies requires the approval of the Legislature and the governor. This is why the 1901 Constitution has been amended nearly 1,000 times.
Enter the 2017 session of the Alabama Legislature. It passed a monuments-protection act that takes away the decision-making power from cities, counties and other government agencies. The overly broad law ties the hands of local governments when it comes to monuments. It's meant for all monuments but — wink, wink — it's obvious that the law's biggest proponents had the Confederate ones in mind.
As of this writing, Birmingham's ability to decide what happens to monuments on its property is before a state court. Covering the monument with tarps and plywood violates the law, according to AG Marshall, thus his office had "no choice but to file suit."
We will note that Marshall's announcement of the suit highlighted that the Confederate Soldiers and Sailors Monument was dedicated in 1905, meaning it is "older than the Jefferson Memorial."
Of course, the more important date is 1901 when Alabama's big dogs created a Constitution to consolidate power away from cities and to more easily controlled lawmakers in Montgomery.
Perhaps the most unusual development in this saga pitting Alabama's Legislature against the mayor of Birmingham is whose side President Donald Trump was on. When asked Tuesday about whether statues like the one in Birmingham should stay or go, the president responded that it should be left up "to a local town community."
Bob Davis is editor and publisher of The Anniston Star. Contact him at 256-235-3540 or bdavis@annistonstar.com. Twitter: EditorBobDavis