Bob Davis: Development bill admits sad fact about Alabama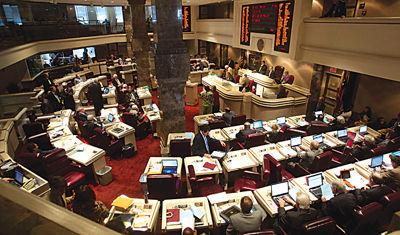 A bill making its way through the Alabama Legislature would loosen ethics requirements for economic developers. The measure passed the House last week and is now headed to the Senate. A robust debate on it misses a deeper point about what makes Alabama attractive to companies seeking to set up shop.
Opponents worry that the bill, HB317, will weaken the state's ethics laws. Tom Albritton, the director of the Alabama Ethics Commission, is in that camp. He has called HB317 "a bad bill that weakens the ethics laws considerably."
Proponents of the bill say it will make Alabama more competitive when it comes to recruiting industry into the state.
"It's very competitive with different states applying for a different industry," state Rep. Ken Johnson, R-Moulton, the bill's sponsor, said last week. "The law of Alabama as it exists may put you at a disadvantage to represent your client without showing your hand."
The argument boils down to: We can have a growing economy or strong ethics laws, but not both. Maybe HB317 is an admission by lawmakers that they and their Statehouse predecessors have failed Alabama. What if in decades past they had invested more in public education, the health of every Alabamian and other quality-of-life features? Would this ethics exclusion be necessary if the state's economy was stronger?
Let's consider the U.S. News and World Report's Best States ranking, comparing Colorado (No. 10) with Alabama (No. 46).
POPULATION
Colorado: 5.5. million
Alabama: 4.9 million
GROSS DOMESTIC PRODUCT
Colorado: $322,644 million
Alabama: $205,626 million
MEDIAN INCOME
Colorado: $32,163
Alabama: $24,257
COLLEGE EDUCATED
Colorado: 48 percent
Alabama: 33 percent
OBESITY RATE
Colorado: 22.3 percent
Alabama: 35.7 percent
POVERTY RATE
Colorado: 11 percent
Alabama: 17 percent
COLLEGE READINESS
Colorado: 20th out of 50
Alabama: 45th out of 50
Our state, blessed with so many resources, is lacking when it comes to the things top industries often look for. HB317 seems to be an admission that to overcome those deficiencies, we need to sweeten the pot a little more.
Let's revisit some of the things online retail giant Amazon is looking for in places vying to be its second headquarters, known as HQ2.
Amazon's specs say a "highly educated labor pool is critical and a strong university system is required."
In seeking a place with a "cultural community fit," Amazon desires a second home that "includes the presence and support of a diverse population, excellent institutions of higher education, local government structure and elected officials eager and willing to work with the company, among other attributes." States and cities in love with time-wasting culture-war battles need not bother applying to be home to the estimated 50,000 jobs Amazon will deliver.
Amazon also wants a place "where our employees will enjoy living, recreational opportunities, educational opportunities, and an overall high quality of life."
We get it: Developing a state into a place where its residents are healthier, better educated, more prosperous and more tolerant of differences is hard work. Legislators can't effect all these changes by themselves. It's simpler to unbind economic developers from ethics laws. However, there's nothing to say they can't work on the indicators that would make Alabama more attractive to high-tech industries.
Bob Davis is editor and publisher of The Anniston Star. Contact him at 256-235-3540 or bdavis@annistonstar.com. Twitter: EditorBobDavis