Bob Davis: Beware your smartphone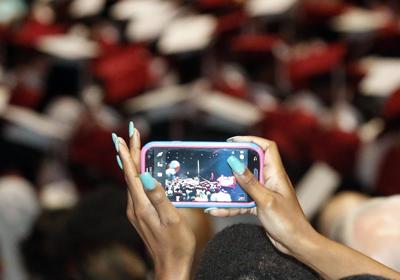 It's time for some of us to treat our smartphones like the new kid in your junior high class. Until you really know him/her and can really trust him/her, it's probably best to keep your innermost thoughts and feelings to yourself. Even then, if your internal monologue is full of racist language, just put your phone down and keep your mouth shut.
Otherwise, you might find yourself having the sort of week Harley Barber had last week. Barber, 19, was a University of Alabama student who on Martin Luther King Jr. Day posted two videos full of racial slurs to her secret social media account.
After receiving criticism for the first video, she responded with a second one. "I'm in the South now, bitch," the New Jersey native said. "So everyone can f— off. I'm from New Jersey, so I can say [n-word] as much as I want."
Barber certainly can — considering the First Amendment and free speech — but she cannot as a student of the University of Alabama. By midweek, she was booted from the school.
"I find the videos highly offensive and deeply hurtful, not only to our students and our entire University community, but to everyone who viewed them," Stuart Bell, the University of Alabama's president, said in a statement released last Wednesday. "We hold our students to much higher standards, and we apologize to everyone who has seen the videos and been hurt by this hateful, ignorant and offensive behavior."
"I did something really, really bad," Barber told the New York Post on Wednesday. "I don't know what to do, and I feel horrible. I'm wrong, and there's just no excuse for what I did."
That's a different tone than the one she voiced to the video camera inside her smartphone on Monday.
In less than 10 years, smartphones have become extensions of ourselves. They are almost always within reach. They are our alarm clock, our weather reporter, our means of meeting people and making friends, our games controller, our camera, our radio, our navigator — and some people even use them as a phone.
All that time together with our phones apparently is leading some of us to let down our guard. They can be a powerful tool for good, but they can also cause tremendous pain. Thoughtless words posted online can sweep across social media like wildfire. And there's no taking them back. The Internet is for keeps.
Bob Davis is editor and publisher of The Anniston Star. Contact him at 256-235-3540 or bdavis@annistonstar.com. Twitter: EditorBobDavis