Bob Davis: A trolling target ponders the hatred aimed his way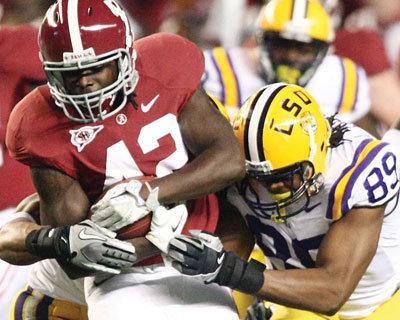 This week's most pertinent question was posed by an NFL running back who played his college ball at the University of Alabama. Despite appearances, its relevance extends far beyond football.
Eddie Lacy, who was drafted by the Green Bay Packers in 2013 following his career with the Crimson Tide, recently opened up to Kevin Van Valkenburg of ESPN the Magazine. The interview appears in the magazine's October issue.
Lacy joined the Seattle Seahawks this year after four seasons with the Packers. His time in Green Bay, Wisc., was marked by an obsession on the running back's weight. His coaches, Packers fans, NFL fans all seemed to have strong opinions on how much or how little Lacy should weigh.
It didn't take long for an online mob to begin mocking his weight, manipulating images of Lacy to make him appear obese or obsessed with eating. It wasn't a passing thing, either. The Louisiana native described a never-ending dogpile of social-media haters. Even now, after losing a significant amount of weight, the trolling continues.
"I could pull up my Twitter right now and there would be a fat comment in there somewhere," Lacy told the magazine. "Like I could tweet, 'Today is a beautiful day!' and someone would be like, 'Oh yeah? You fat.' I sit there and wonder: 'What do you get out of that?' "
Let's repeat that last part: "What do you get out of that?"
Great question, Eddie.
What in the heck do the trolls, the scoffers, the haters, the cruel meme-makers, get out of being so nasty?
And the trolling isn't just reserved for well-paid pro football players who are in the public eye. Most of us who spend any time online are familiar with it. A survey of Americans' internet experiences released this year by the Pew Research Center found that 41 percent say they have been harassed online. About two-thirds of respondents say they've witnessed trolling aimed at others. For 18 percent this trolling has turned into something more unsettling, including "physical threats, harassment over a sustained period, sexual harassment or stalking," Pew reported.
So, let's return to Eddie's question: Why?
Research released earlier this year by Stanford University referenced suspected triggers such as "out of boredom, for fun, or to vent." It went on to suggest a person's mood and the subject matter might play a role in someone becoming a troll.
It's enough to raise doubts in someone who played a huge role in the development of Twitter and a popular blogging platform. "I thought once everybody could speak freely and exchange information and ideas, the world is automatically going to be a better place," Evan Williams told The New York Times earlier this year. "I was wrong about that."
It's important to note that the online nastiness generally comes from a dedicated minority of commenters. Most people — both online and in real life — are decent. Even if provoked, they'd never hurl mean-spirited insults to your face.
It's a different story for the online world where consequences for misbehavior are lower and anonymity is higher. There it's possible to see a professional athlete's physique mocked by people who almost certainly are in worse shape than Eddie Lacy.
Bob Davis is editor and publisher of The Anniston Star. Contact him at 256-235-3540 or bdavis@annistonstar.com. Twitter: EditorBobDavis