HOLLIS — Something smells bad in Cleburne County, and residents who live along County Road 805 near the unincorporated community of Hollis are raising a stink about it. 
JDS Septic Service earlier this year opened a treated sewage disposal facility which processes fats, grease and human waste from septic tanks, according to owner Joey Sprayberry. The odor from the disposal process is wafting in the summer breeze to nearby residents, who claim it's causing upper respiratory problems and decreasing the quality of their lives.
Wallace Stephens, 76, who lives on County Road 805, spends most of his time talking to his neighbor Caleb Wair, 75, on their front porch. No one told the two a sewage disposal facility was moving in.
"We kept watching these trucks coming up and down the road we wondered, 'What's going on?' We could smell that stuff,'" Stephens said.
The night before, Stephens said, he attended a public meeting in Hollis for residents to voice their concerns about the stench emanating from the waste disposal site. 
"It's making people's sinuses flare up, making them sick," said Stephens.
Sprayberry said that the facility is a 5-acre tract of land where trucks loaded with the treated sewage spray it over grass. During a phone interview Sprayberry said he is doing nothing wrong and the entire operation is permitted by the county health department and the Alabama Department of Environmental Management. Sprayberry said that before the sewage is spread any trash is removed, pathogens killed and it's treated with lime to adjust the pH level.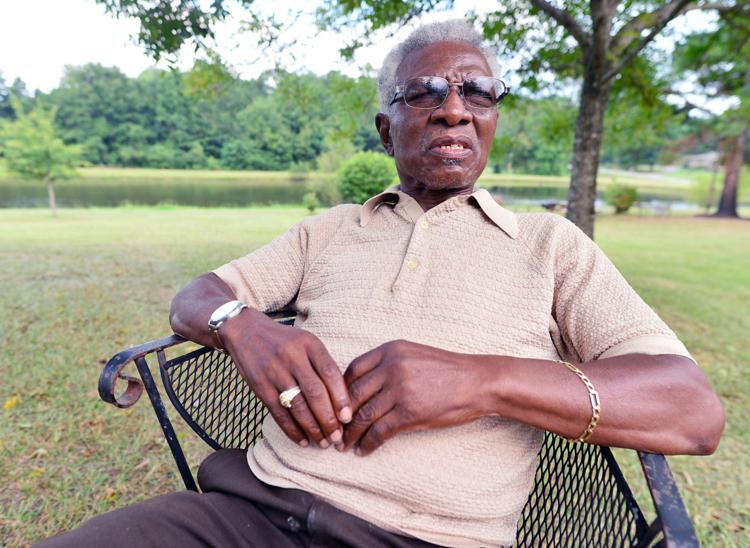 A representative from ADEM visited the facility in June on account of residents' complaints and wrote a report, according to Sprayberry.
"I've got the report to where there's no runoff, there is no contamination or anything like that. What we are doing is permitted by the state and the county health department," said Sprayberry. 
Sprayberry said that after a while the smell will subside.
According to Jason Odom, Cleburne County attorney, the facility is governed by the health department, not by the county. In a written statement Odom said that Cleburne County has zero ability to get involved in the issue and noted that voters had a chance to pass the "Limited Self-Governance" measure last year but it failed at the ballot box. Had it passed, the county could have had some teeth to enforce "unsanitary sewage" and other nuisance issues.
Wair, like his neighbor Stephens, is complaining of health issues.
"Here lately I've been coughing a lot and sneezing and my eyes, sometimes at night I feel like I have grease in them or something," Wair said.
Wair also noticed an increase in flies.
"The flies are bad, them little blow flies like what lays maggots, them green flies," said Wair.
Victor Cooley, 62, said his property is 250 to 300 feet from the waste facility and like Stephens and Wair, the arrival of the aromas caught him and his family by surprise.
Cooley said he heard loud machinery in March and thought someone was building a house.
"In April the smell came. It was terrible. And then in June, around Father's Day, my daughters came home and said,'Daddy what's that smell?'
"It got stronger and stronger so then one day I just walked over. I noticed they had it roped off, they had a ditch cut around the whole property, they had a fence up, smell was strong, nauseating," Cooley said.
A visit to the waste site last week from another land owner's adjacent property revealed a large lot with a ditch and silt fences on one end. The surface of the ground was bare dirt. Sprayberry said he had recently tilled the grass, added lime and has planted a new crop of grass — tierra verde bermuda — to cover the dumping field.
"Now we're just letting it sit for a little bit," Sprayberry said, adding that there has been no dumping in three weeks.
Sprayberry said that he is getting threats from people about his operation.
"Whoever is running their mouth might get slandered because it's legal," said Sprayberry.
Sprayberry said that while neighboring Georgia has an odor nuisance law, Alabama does not and people's emotions are running high. Sprayberry said that he was advised not to go to the public meeting held last week in Hollis by his lawyer.
"I'm sorry, I should have known about that before I started this process but now I'm invested in it. I'm not a millionaire," said Sprayberry.
"I don't want to look like an outlaw or a crook here because I'm just doing what I'm permitted to do," said Sprayberry. 
Brett Farr, 35, who also lives on County Road 805 said, "I can't be on my porch at night, it's that bad."
Farr said like the other residents that he's suffering from congestion and a stuffy nose. 
At the Cleburne County Commission meeting Monday night Ryan Robertson, the commission's ex-officio chairman, said that Cooley will address the commission at next week's meeting to voice his concerns.
"He wants us to be aware of it ... try to get our legislators or ADEM or the health department to do something," Robertson said.