The SEC Network, a collaboration between the Southeastern Conference and ESPN, debuts this evening at 5. For fans of college sports, the anticipation is almost too much; it's sort of like signing day, the start of two-a-days and bowl season rolled into one.
The new network will feature SEC sports as well as the Paul Finebaum Show every weekday at 2 p.m. What follows is your primer to the new network.
• AT&T U-Verse (Channel 607/1607 HD)
• CableOne (Channel 66/441 HD)*
• DISH Network (Channel 408)
*Channel number varies by location.
(Disclaimer: Check with your cable/satellite provider to see if your subscription tier includes the network. Some subscribers may have to upgrade to a higher tier.)
Give us your first impressions of the SEC Network Thursday via social media with the hashtag: #SECTVUnderReview

— The Anniston Star (@AnnistonStar) August 13, 2014
The initial program on the schedule today is "SEC Now," which ESPN promises will offer three hours of "live look-ins" from all 14 SEC schools. Hosting duties will be fulfilled by Dari Nowkhah and Maria Taylor, who will be joined by Brent Musburger,  Paul Finebaum, Greg McElroy and Booger McFarland.
The 24-hour network's first few weeks will be devoted to replaying classic SEC football games. Alabama is up first, with replays beginning early Friday morning. Auburn gets its turn in the early morning hours of Aug. 22.
The first 2014 season games will be aired two weeks from today, on Aug. 28: Texas A&M at South Carolina (5 p.m.) and Temple and Vanderbilt (8: 15 p.m.).
THAT'S A 'FOUR' AND A 'FIVE'
Network officials say the channel will offer 45 SEC football games over the first four weeks of the 2014 season, including Arkansas at Auburn on Aug. 30 and Florida Atlantic at Alabama on Sept. 6.
+1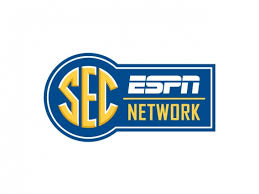 FROM THE FIELD TO THE STUDIO
The network boasts that its analysts include former college football players Jesse Palmer (Florida), McElroy (Alabama), McFarland (LSU), Marcus Spears (LSU) Matt Stinchcomb (Georgia), Tim Tebow (Florida) and Andre Ware (Houston).
BETTER TO RECEIVE THAN GIVE
"It's tough asking questions. It's a lot easier to respond to questions." -- Greg McElroy, comparing his new role with the SEC Network to his former job as an NFL and Alabama quarterback.
The estimated reach of the SEC Network: 90 million homes.
IN THEIR MIND, THEY'VE GONE TO …
Home for the SEC Network is Charlotte, N.C. Why a city in a state without an SEC school? Per the network, "ESPN already has a state-of-the-art facility in Charlotte that is easily accessible from across the SEC footprint."
When the network deal was announced in 2013, ESPN officials told reporters that the agreement between the TV network and the conference covered 20 years.
THEY' CAN'T ALL BE FOOTBALL GAMES
SEC Network officials promise to broadcast 1,000 sporting events in the first year. For example, in the weeks following its debut the channel will carry men's basketball -- Kentucky vs. Champagne Chalons-Reims in an exhibition game Saturday at noon -- and soccer -- Georgia at Ole Miss at 6 p.m. Aug. 22.